Sinai kidnapping: Egyptian soldiers and police seized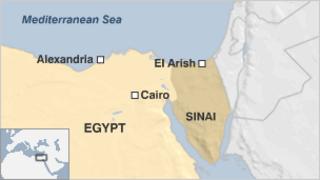 Seven members of the Egyptian security forces have been seized by unidentified kidnappers in the Sinai peninsula, Egyptian officials say.
The three policemen and four soldiers were captured while travelling in minibuses in northern Sinai, east of the city of El Arish.
The kidnappers are said to be demanding the release from prison of jailed relatives.
Reports say local Bedouin tribal leaders have been asked to mediate.
Egyptian President Mohammed Morsi has also summoned the defence and interior ministers to update him on the situation.
Sinai has become increasingly lawless since President Hosni Mubarak was ousted in 2011.
There have been several incidents in which Western tourists and other foreigners have been kidnapped.
Correspondents say they are usually released fairly quickly, but some migrants from poorer regions seeking a better life in the West have been seized and brutally mistreated by people traffickers.
Islamist militants in northern Sinai have used the lack of central authority to carry out attacks across the border into Israel.
Egyptian Bedouins have also used hostage-taking to press for the release of jailed tribesmen they say have been sentenced unfairly on charges ranging from terrorism to drug dealing.