Ten dead in sectarian clashes in Lebanon's Tripoli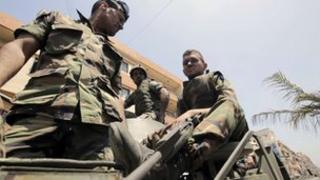 At least 10 people have died and 70 have been wounded in the latest round of sectarian violence in Tripoli in Lebanon.
Four people were killed overnight in fighting between Alawite supporters of Syrian President Bashar al-Assad and Sunnis, who back the Syrian opposition.
The death toll since fresh fighting broke out on Sunday includes two Lebanese soldiers.
Earlier this month, five people were killed in violence in the city.
The Lebanese media says that residents had to take shelter from shelling and sniper fire, as the clashes entered a fourth day.
Fighting in Tripoli has been concentrated in the predominantly Sunni Bab al-Tabbana area and the Jabal Muhsin area, which is populated mainly by Alawites.
Lebanese army troops were seen patrolling major roads in Bab al-Tabbana hours before the fresh fighting broke out, reports the AP news agency.
Earlier in May, violence erupted after Sunni cleric Shadi al-Moulawi was arrested on terrorism charges. His supporters claimed he was held because of his help to Syrian refugees and his support of the Syrian opposition.
Tripoli is a largely Sunni city but is also home to a small community of Alawites, an offshoot of Shia Islam to which Syrian President Bashar al-Assad belongs.
The city has recently become home to thousand of Syrian refugees fleeing violence.
Community leaders in Lebanon had repeatedly warned of the possibility that the violence in Syria would spill over the border.
In February at least two people were killed in Tripoli as supporters and opponents of Mr Assad clashed.