Syria conflict: Opposition willing to attend talks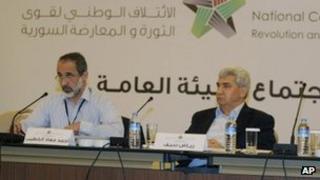 The main Syrian opposition coalition has said it is willing to attend an international peace conference expected to take place in Geneva next month.
But a spokesman for the National Coalition, Louay Safi, told the BBC that it would only go if President Bashar al-Assad agreed to step down.
Earlier, Russia said the government had agreed "in principle" to participate.
Previous efforts to find a political solution to the conflict have foundered on preconditions from both sides.
Meanwhile there has been further heavy fighting in Qusair, a strategically important town between Homs and the Lebanese border.
Government forces backed by Hezbollah militants launched an offensive to recapture Qusair on Sunday. The state news agency said on Friday a "large number" of rebel fighters had been killed in the latest clashes.
'Surprised'
Russia and the US are attempting to convene a conference to negotiate an end to the violence, but have yet to finalise the date, agenda, timetable or participants.
However, they have said any agreement should be based on the final communique of the UN-backed Action Group for Syria meeting in Geneva in June 2012.
The communique called for an immediate end to violence and the establishment of a transitional government that could include officials serving under Mr Assad and members of the opposition. It did not state explicitly that the president should step down.
Russia has been pressing the Syrian government to agree to dialogue, and foreign ministry spokesman Aleksandr Lukashevich announced: "We note with satisfaction that Damascus has confirmed its readiness in principle to participate in an international conference in the interest of the Syrians themselves finding a political path to a settlement of the conflict that has been devastating for the country and the region."
The US has meanwhile focused on securing the participation of the opposition National Coalition, which responded sceptically to the Russian announcement.
"We were surprised that this announcement was made in Moscow, not in Damascus," Mr Safi told the BBC. "The first reaction is that we would like to hear it from the Syrian government."
Speaking during a three-day opposition meeting in Istanbul, Mr Safi said the National Coalition for Syrian Revolutionary and Opposition Forces would be willing to participate in the conference, but only if President Assad and his associates hand over power as part of any settlement.
"If the government will agree to the framework, yes [we will be there]. We have welcomed the Geneva agreement from day one. We would like to find a political solution. But we don't want to be deceived again by this regime, which has deceived us many times."
Russia has said the president should be allowed to stay in power, arguing that his presence would stabilise any transition. Mr Assad has meanwhile repeatedly insisted that he has no intention of standing down and plans to stand in next year's presidential election.
Members of the National Coalition are meeting in Istanbul to elect a new leader to replace Sheikh Moaz al-Khatib and formulate its positions before the Geneva conference.
The UN says that more than 80,000 people have been killed since the uprising against the Syrian president began in March 2011. There are 1.5 million refugees taking shelter in neighbouring countries and an estimated 4.25 million internally displaced people.