Kuwait opposition leader al-Barrak's sentence quashed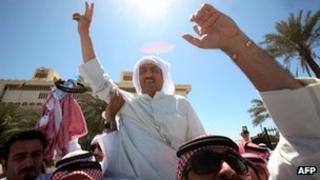 A Kuwaiti appeals court has overturned a five-year sentence for prominent opposition figure Mussallam al-Barrak who was convicted of "undermining" the ruling emir, his defence lawyer says.
The former MP was arrested over remarks he made at a rally in October, urging the emir to avoid "autocratic" rule in Kuwait.
Mr Barrak was handed the sentence in April but later freed on bail.
His trial prompted angry protests and clashes between activists and police.
Mr Barrak could still receive another sentence with the case due to continue in the appeals court on 9 June, his lawyer says.
"The (appeals) court declared the lower court verdict against Barrak illegal and cancelled it. It also agreed to call witnesses in the next hearing," defence lawyer Mohammad Abdulqader al-Jassem told AFP news agency.
Tensions
In the previous trial, Mr Barrak's defence team walked out after the judge refused to summon a number of witnesses requested, including Prime Minister Sheikh Jaber Mubarak al-Sabah.
Kuwait has recently witnessed a clamp down on activists and MPs who have been handed sentences charged with insulting the emir, Sheikh Sabah al-Sabah, through comments posted on social networking sites such as Twitter.
While Kuwait has not seen the same scale of pro-democracy uprisings as in other Arab states, there has been growing tension between former MPs and the Sabah-dominated government.
At the end of last year, the opposition boycotted parliamentary elections in protest against changes to the electoral law which they said denied them a majority and favoured the pro-government candidates.
There was a record low turnout for the election as a result of the boycott.
The speech for which Mr Barrak was convicted came at an opposition demonstration outside parliament in Kuwait City's Erada Square in October last year. He had shocked many observers by publicly challenging the emir.
"We will not allow you, your highness, to take Kuwait into the abyss of autocracy," he said. "We no longer fear your prisons and your riot batons."
Drawing from the support of one of the largest and most powerful tribes in Kuwait, the Mutari, Mr Barrak wields considerable influence over the opposition in Kuwait. His arrest triggered a series of street protests.