EU looks for 'game-changer' on Syria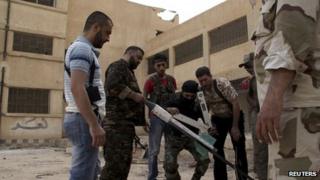 The new buzzword on Syria is game-changer. But it's unlikely the game will change after the EU ended its ban on arming rebels in a war that grows ever more chaotic and consequential.
Arguments have now intensified over whether more weapons or fewer can bring an end to a punishing conflict that has already cost at least 80,000 lives.
Is this a step that will help deliver, or defer, an international peace conference set for Geneva in June?
"This was the outcome that the United Kingdom wanted," Foreign Secretary William Hague said after a marathon meeting of EU foreign ministers in Brussels that exposed again the deep and growing rifts over Syria.
With a diplomat's nod to this disarray, Mr Hague conceded: "It was a difficult decision for some countries but it was necessary and right to reinforce international efforts to reach a diplomatic solution to the conflict in Syria."
Swedish Foreign Minister Carl Bildt drew the completely opposite conclusion. "It is extremely important not to do anything to rock the boat before the international conference, and this decision rocks the boat," he regretted after the protracted session.
The morning after, he obliquely wrote on Twitter: "Now in discussions in European Parliament on how to be better at what the EU should really do - promoting and delivering peace."
'Too little, too late'
In Syria today, a push for peace is also a race to war.
Russian Deputy Foreign Minister Sergey Ryabkov declared the EU decision would "directly harm" prospects for the "Geneva II" meeting being co-sponsored by Moscow and Washington.
He also confirmed Russia would continue with plans to provide Syria with state-of-the art S-300 surface-to-air missiles "to prevent foreign intervention in the country".
European nations emphasise that the lapsing of an EU ban is, for the moment, intended as a signal, not the start of a new channel of weapons for what is being described as the "moderate opposition."
London, as well as Paris, are hoping the mere threat of Europe entering the fray will persuade President Assad of the need to negotiate. It's also a bid to boost the bargaining position of more moderate forces, principally those working with the Free Syrian Army (FSA).
George Jabboure Netto, a Washington-based Syrian opposition leader, welcomed the EU move, saying "coupling the arming of the FSA with the diplomatic effort was a must".
Others from the opposition dismissed it as "too little, too late".
The argument over arms has been given added urgency by recent reports that chemical weapons have been used on a number of occasions, in limited quantities, and allegedly by both sides.
Efforts to bring about a first meeting between Syria's government and opposition are already being held hostage by disputes among Syrian opposition groups, and jockeying for influence among regional heavyweights including Qatar and Saudi Arabia.
And President Assad, bolstered by recent military gains on some key fronts, has turned a deaf ear to repeated demands that he must step down as part of any political transition.
If weapons are to be a game-changer, many argue that must mean, among other things, delivering powerful anti-aircraft and anti-armour missiles.
These are the very weapons that Western nations, as well as some of Syria's neighbours, don't want to fall into the hands of well-organized and well-financed Islamist groups.
A decisive military intervention would also mean drawing in the United States which, so far, has remained on the margins of this war.
One European foreign minister opposed to lifting the ban couldn't resist the jibe that "Britain and France have discovered they don't have these weapons to give the rebels anyway".
Arms bazaar
On the ground, Syria's opposition fighters are factionalised and fragmented, with many fighting local battles to carve out individual fiefdoms.
"The weapons do not go to an organised, disciplined army," commented defence analyst Robert Fox. "They go into the arms bazaar, and this stuff drifts around."
On the other side, President Assad's military might is boosted not just by powerful backers like Russia but also Iran, as well as Lebanon's Hezbollah fighters who have now joined battle with Syrian troops.
Both Britain and France, the two EU countries most likely to provide arms, emphasise they have still not taken a decision to do so. The EU decision also requires them to authorise any shipments on a case-by-case basis including safeguards to ensure they don't end up in the wrong hands.
This is a first cautious step and the EU will review it again by 1 August.
Arguments will accelerate in the meantime.
A new paper by the European Council on Foreign Relations is calling for an emphasis on de-escalation and diplomacy in what it called "a rare moment of opportunity."
British Conservative MP Brooks Newmark, who has visited Syria many times, insists: "We all want the same thing, a negotiated end to the war."
But the MP, who has also met President Assad in the past, stressed that "what we need is a game-changer to send a powerful signal before the Geneva talks."
The war destroying Syria, and dividing the region, is now causing disarray even further from the bloody battlefields. For now, for all too many, that is the game that matters most.