Iraq violence: New bombings and gun clashes kill 13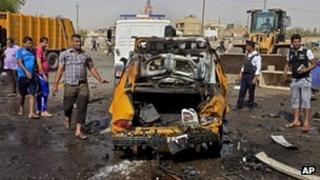 At least 13 people have been killed in Iraq in fresh violence.
In the deadliest single incident on Tuesday, five people were killed and 25 wounded by a bomb on a bus in the Sadr City suburb of the capital Baghdad.
On Monday, 66 people were killed by car bombs in Baghdad targeting Shia-majority areas of the city, including on the edge of Sadr City.
The recent upsurge in violence comes amid rising sectarian and political tension.
On Tuesday at least three policemen were killed in the northern city of Mosul in clashes between gunmen and police. A bombing near the city killed another policeman.
In the town of Tarmiya, two people died in a suicide bombing, and two people were killed by gunmen near the city of Tikrit.
Sectarian fears
UN envoy to Iraq Martin Kobler urged "all leaders" to protect civilians: "It is their responsibility to stop the bloodshed now," he said in a statement.
Tension between the Shia Muslim majority, which leads the government, and minority Sunnis has been growing since last year.
Sunnis have accused the government of Prime Minister Nouri al-Maliki of discriminating against them - something the government denies.
Mr Maliki has vowed to make immediate changes to Iraq's security strategy, saying militants "will not be able to return us to the sectarian conflict".
On 20 May more than 70 people were killed and many others injured in a series of attacks across the country, in what was described as one of the worst days for sectarian violence in Iraq for several years.
The UN says more than 700 people were killed in April, the highest monthly toll in almost five years.
Estimates put the number of deaths this month at more than 450.
Despite the persistent violence, there have been intensifying efforts on both sides of the divide to prevent a return to civil war, correspondents say.