Mahmoud Abbas appoints new Palestinian PM Rami Hamdallah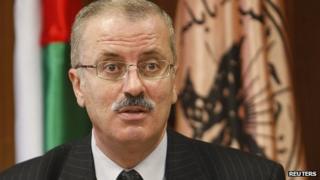 Palestinian Authority President Mahmoud Abbas has appointed a new prime minister following the resignation of Salam Fayyad.
Rami Hamdallah, a British-educated academic and political independent, will take over.
He replaces Mr Fayyad who stepped down in April following a long-running and bitter dispute with the president.
The move comes as the US tries to revive the long-stalled peace process with Israel.
Mr Hamdallah, 54, now has the job of forming a new government in Ramallah, the administrative centre of the Palestinian Authority.
He is currently president of al-Najah National University in the West Bank and seen as close to Mr Abbas' Fatah party. He has not previously had a high-profile role in Palestinian politics.
Mr Hamdallah will be expected to act as a caretaker prime minister while the two main Palestinian political factions, Fatah and Hamas, continue drawn-out reconciliation talks.
The two sides split violently in 2007 with Fatah taking control in the West Bank and Hamas in the Gaza Strip.
Last month officials on both sides announced plans to form a unity government by August that would then prepare for new elections.
However, Hamas has described the appointment of Mr Hamdallah as "illegal".
"This isn't a unity government because it didn't come as part of the reconciliation agreement [reached in Cairo]," said Fawzi Barhoum, a Hamas spokesman in Gaza.
"It's not a professional government and it is not legal or legitimate because it didn't come with the approval of the parliament."
US Secretary of State John Kerry welcomed the prime minister's selection.
"His appointment comes at a moment of challenge, which is also an important moment of opportunity," he said in a statement.
Mr Fayyad, 61, was prime minister of the Palestinian Authority from 2007. A former International Monetary Fund official, he was widely respected among international organisations and donors but clashed with Mr Abbas over economic policy.
While the appointment is making the front pages of Palestinian newspapers, the BBC's Yolande Knell in the West Bank says response on the street is muted.
Many shoppers in central Ramallah said they had not heard of Mr Hamdallah or only knew of him because of his 15-year-tenure as head of the al-Najah National University.
"I know he's a leading academic but I don't know him as a politician so it's hard to say if he'll succeed," Abu Khaled told the BBC.
"He will suffer a lot because there's so much disagreement among the Palestinian people."
However, Raja Bassir said: "I don't know him personally but why not give him a chance? The most important thing is that the new government should prioritise the interests of the people."
Some experts see the appointment of Mr Hamdallah as a sign that Palestinians are unlikely to head to elections in the near future.
"This is supposedly an interim measure but most likely it will last for a while," says George Giacaman, a political science professor at Birzeit University.
"Hamas has no real interest in elections as they are in government in Gaza. If they win there will be another international boycott and if they lose it will be bad. For Mahmoud Abbas it will be a risk to go for elections when he has nothing to show for it."
Israel has not yet given an official response to the announcement.
Commentary in the Israeli daily newspaper Haaretz described Mr Hamdallah as "moderate" and "pragmatic with all that has to do with Israel".