Tough challenges await new Palestinian Prime Minister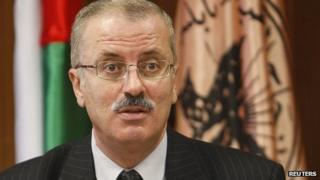 The appointment of a new prime minister to the Palestinian Authority (PA) has dominated Palestinian media for the past two days but on the streets the reaction is muted.
Many shoppers in central Ramallah had not previously heard of Rami Hamdallah or else knew him only because of his 15-year-tenure as head of an-Najah University in the West Bank city of Nablus.
"I know he's a leading academic but I don't know him as a politician so it's hard to say if he'll succeed," commented Abu Khaled, a middle-aged man.
"He'll suffer a lot because there's so much disagreement among the Palestinian people."
"I don't know him personally but why not give him a chance?" said Raja Bassir as she headed into a store near al-Manara Square. "The most important thing is that the new government should prioritise the interests of the people."
The appointment of Mr Hamdallah by the Palestinian President Mahmoud Abbas ends a period of political uncertainty after Salam Fayyad resigned as prime minister in April.
A leading economist, Mr Fayyad was popular with Western nations that donate funds to the PA, and was credited with helping to build the institutions of a Palestinian state. Yet he always had a strained relationship with Mr Abbas and his economic reforms often lacked public support.
Mr Hamdallah studied for his PhD in linguistics at Lancaster University in the UK and has had an illustrious academic career. He has never before held a high-profile political position.
International approval
The United States - which is currently trying to revive peace talks between the Palestinians and Israel - welcomed the choice of Mr Hamdallah.
In a statement on Sunday night, the Secretary of State John Kerry said his appointment came at a challenging time that was also "an important moment of opportunity".
Similar sentiments have since been expressed by the European Union.
Israel's defence minister, Moshe Yaalon made cautious remarks expressing hope his country would be "faced with pragmatic people" but Israeli pundits were generally satisfied. Army radio said officials saw the new Palestinian prime minister as "a moderate and a pragmatist" who "knows how to talk to the West".
For his part, Mr Hamdallah has made clear that he is taking up his new role only in a caretaker capacity while Fatah continues protracted reconciliation talks with its political rival in Gaza, Hamas. He told the official Voice of Palestine radio that his new cabinet was "part of the reconciliation efforts" and that most ministers would continue in their positions.
There has been a deep rift between the two main Palestinian political factions since 2007, which led to Fatah forming a government in the West Bank and Hamas seizing control of the Gaza Strip.
Last month officials on both sides announced plans to form a new unity government by August that would then prepare for new elections.
"I hope that by 14 August, President Abbas will form a new government according to the agreement between Hamas and Fatah," Mr Hamdallah said.
However his appointment has been criticised by Hamas which described it as "illegal".
"This isn't a unity government because it didn't come as part of the reconciliation agreement. It's not a professional government and it's not legal or legitimate because it didn't come with the approval of the parliament," Fawzi Barhoum, a Hamas spokesman in Gaza told the BBC.
Economic challenge
Some experts see the appointment of Mr Hamdallah as a sign that Palestinians are unlikely to head to elections in the near future.
"This is supposedly an interim measure but most likely it will last for a while," said George Giacaman, a political science professor at Birzeit University.
"Hamas has no real interest in elections as they're in government in Gaza. If they win there will be another international boycott and if they lose it will be bad. For Mahmoud Abbas it will be a risk to go for elections when he has nothing to show for it."
The new prime minister is technically politically independent, but has close links to Fatah. Mr Giacaman describes him as an "insider-outsider" who could help shore up the president's power.
In the immediate future the biggest challenge facing Mr Hamdallah will be dealing with the financial crisis in the PA.
Shortfalls in its budget have meant public workers' salaries regularly go unpaid. This has resulted in strikes by teachers and doctors. A tax increase decided by the outgoing prime minister was deeply unpopular. Several countries, particularly in the Gulf, have also failed to keep their donation pledges.
"I believe Dr Hamdallah will do his best to manage this crisis - to chase up donors and make resources available and he will be helped by two new deputies," said Palestinian economist, Samir Hazboun. "But the issues are not just economic they are political and he cannot make miracles."
The US recently announced a US $4bn development plan to revitalise the Palestinian economy but has not yet announced details of how the money would be raised through private investment.