Israel gay club shooting: Four suspects held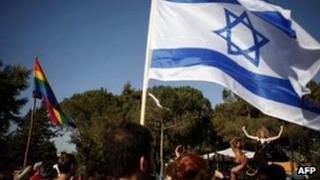 Three people have appeared in court in the Israeli city of Tel Aviv suspected of involvement in a deadly shooting at a gay youth centre there in 2009.
They were the first arrests over the attack, which killed a 26-year-old counsellor and a 17-year-old girl.
The shooting sent shockwaves through Israel's gay community, which feared it had been targeted in a hate crime.
The details are subject to a media gagging order, but reports suggest the motive was one of revenge.
A fourth person, reported to be a gay rights activist, has been arrested on suspicion of obstructing the police investigation into the attack.
The three men, who were led into court manacled to police officers, were remanded in custody for 15 days.
Israel's Haaretz newspaper quoted police as saying the suspects had criminal backgrounds and that at least two had connections to a large Israeli crime organisation.
The paper said it is believed the killer was a hired gunman who went to the Bar Noah youth club and opened fire randomly after failing to find his target.
Liz Trubeshi and the youth counsellor Nir Katz were killed and 15 others were wounded in the incident on 1 August 2009.
The investigation has been one of the most expensive in Israeli history, Haaretz said.
The attack and subsequent failure to apprehend any suspects stirred public debate in Israel about attitudes there towards homosexuality.
The arrests came on the eve of the annual pride parade in Tel Aviv, which has one of the largest gay communities in the Middle East.