Inquiry call over Israel's 'torture of Palestinians'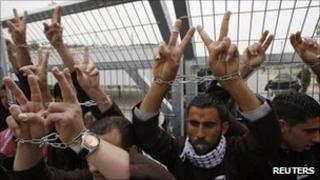 A UN expert has called for an international inquiry into Israel's treatment of Palestinian prisoners, alleging torture and other abuses.
In a report, Special Rapporteur Richard Falk said Israeli violations were happening "on a massive scale".
He also said Israel's blockade of Gaza must end, describing it as "collective punishment" of Palestinians.
Israel, which accuses Mr Falk of being biased against the Jewish state, has so far not commented on the document.
Last week, the US - which has also expressed concerns about Mr Falk's alleged bias - called for his removal from the post.
'Drastic changes'
"The treatment of thousands of Palestinians detained or imprisoned by Israel continues to be extremely worrisome," said Mr Falk.
His annual report, presented at a meeting of the UN Human Rights Council in Geneva, accused Israel of subjecting Palestinian prisoners to serious violations.
These included detention without charges, "torture and other forms of ill, inhumane and humiliating treatment," and solitary confinement, including of children, said the report.
Mr Falk, a Princeton University law professor, said the situation was extremely worrying, and called for an international investigation.
There are currently about 4,500 Palestinians in Israeli prisons, and the UN estimates that more than 700,000 Palestinians have gone through detention in Israeli jails since the 1967 Middle East war.
Mr Falk also urged an end to Israel's blockade of the Gaza Strip, saying that it amounted to "collective punishment of 1.75m Palestinians" in the territory.
"With 70% of the population dependent on international aid for survival and 90% of the water unfit for human consumption, drastic and urgent changes are urgently required if Palestinians in Gaza are to have their most basic rights protected," Mr Falk was quoted as saying by the AFP news agency.
In 2008, Mr Falk drew widespread criticism for comparing Israeli actions in Gaza to those of the Nazis.
Israel - which last year stopped co-operating with the UN Human Rights Council over its alleged unfair criticism - was not present at the Geneva meeting.
But Arab countries and some non-aligned states welcomed Mr Falk's report, suggesting it shed light on a human rights situation which required international scrutiny, reports the BBC's Imogen Foulkes in Geneva reports.