Bahraini citizen 'disappears' in UAE prison system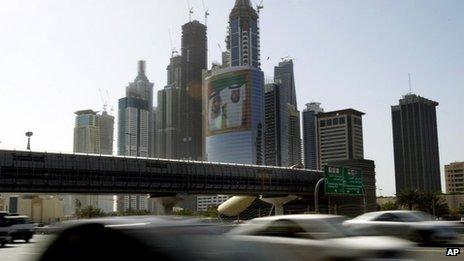 The family of a 33-year-old Bahraini man who was arrested nearly two months ago in the United Arab Emirates have had no word as to his whereabouts, according to a human rights organisation.
The Emirates Centre for Human Rights has said that Salah Yafai was arrested at Dubai airport on 26 April 2013.
According to the centre he was being held for his membership in a conservative religious society and for tweets in support of jailed political dissidents in the UAE.
Mr Yafai made one call on his mobile phone to a Bahraini member of parliament at the time of his arrest.
The MP, Mohammed al-Emadi described him as sounding "frightened and upset". Since then no-one, including his family has heard from him.
The UAE government has not confirmed his arrest but a family friend who asked not to be identified told the BBC: "We want to know where he is, we are worried about his safety."
Mr Yafai, a fitness trainer and educator, is a member of the Bahrain al-Islah society, a conservative religious organisation with links to the Muslim Brotherhood.
Last year 94 people, most of them members of the al-Islah society in the UAE were arrested and are on trial charged with plotting to overthrow the United Arab Emirates government. The detainees include two prominent human rights lawyers, as well as judges, teachers, and student leaders.
If convicted, the activists, including 13 women, each face up to 15 years in jail, with no right of appeal.
A verdict in their case is expected in early July.
Faisal Fulad of Bahrain Human Rights Watch Society called the arrest of Mr Yafai a "very serious human rights violation".
Despite numerous requests for intervention, Mr Faisal said "the Bahrain government is doing nothing".
Mr Faisal said that Bahraini state television and newspapers close to the government were making no mention of Mr Yafai's plight.
Bahrain's human rights record has been severely criticised in the wake of the crushing of an anti-government protest in 2011.
More than 50 people died, hundreds were injured and thousands jailed, almost all of them Shia Muslims, the majority population. The ruling al-Khalifa family is Sunni Muslim.
Mr Yafai is a Sunni and the lack of response from the government to his seizure has angered many in the Sunni community in Bahrain.
The friend told the BBC: "Sunnis stood with the government against the uprising but there is no gratitude for their support."
Mr Fulad called for the Bahrain government to make a public statement about the case and ensure that Mr Yafai has access to a lawyer and to his family.
"Al-Islah is a legal entity in Bahrain, Salah Yafai is a citizen of Bahrain, so the government of Bahrain cannot keep silent about this."
Related Internet Links
The BBC is not responsible for the content of external sites.