Palestinian PM Rami Hamdallah's resignation accepted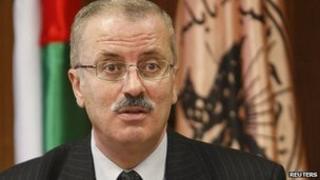 Palestinian President Mahmoud Abbas has accepted the resignation of Prime Minister Rami Hamdallah, who has been in office less than a month.
He offered his resignation on Thursday because of a "conflict over authority" within his cabinet, government sources said, but withdrew it the next day.
An academic and political independent, Mr Hamdallah was sworn in on 6 June.
He replaced Salam Fayyad, who stepped down following a long-running dispute with Mr Abbas.
Mr Hamdallah's resignation leaves the Palestinian Authority in a state of disorder as it struggles to deal with a financial crisis, the BBC's Yolande Knell in Ramallah reports.
She says it also comes with US Secretary of State John Kerry expected to return to the region in the coming days, continuing his push to bring Israel and the Palestinians back to the negotiating table.
'Illegal' appointment
Mr Hamdallah said last week that he was resigning because of a conflict of authority with his two new deputies. He did not provide further details.
When he was appointed, Mr Hamdallah stated his administration would rule only for "a transitional period" until a unity government was formed.
The move was aimed at filling a political vacuum in the Palestinian Authority, which governs parts of the West Bank, and analysts say there will now be questions about how securely that vacuum has been filled.
Now President Abbas will face a challenge as he searches for another PM, one who will satisfy Western nations that prop up the Palestinian Authority through donations, our correspondent says.
Mr Hamdallah's cabinet had only met for the first time last week. It consisted mainly of members of the Fatah party, one of the two main political factions, led by President Abbas.
The other main faction, Hamas, described the appointment of Mr Hamdallah as "illegal" because it was not a unity government formed as a result of a reconciliation agreement.
There has been a deep rift between the two main Palestinian factions since 2007, when Hamas, which won elections the previous year, ousted forces loyal to Mahmoud Abbas in Gaza and set up a rival government.
The two factions are currently engaged in drawn-out reconciliation talks. Last month, officials on both sides announced plans to form a technocratic government by August that would then prepare for new elections.