Islamist governor of Egypt's Luxor quits after uproar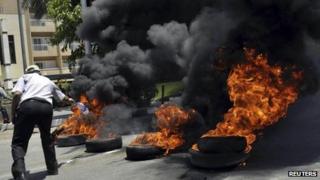 The new governor of Egypt's Luxor province has resigned amid controversy over his links to an Islamist group that carried out a deadly attack on tourists there in 1997.
Adel Khayat's appointment infuriated many Egyptians and prompted the tourism minister to submit his resignation.
Islamist President Mohammed Morsi had defended Mr Khayat's appointment.
Mr Khayat is a member of the political wing of Gamaa Islamiya, which carried out the raid that killed 58 tourists.
'For Egypt's sake'
Mr Khayat, a member of the Construction and Development party, had denied any role in Gamaa Islamiya's militant past and pledged to protect tourists.
He told a news conference on Sunday: "We will not accept that one drop of blood be spilt because of a position that I did not personally aspire to at any time."
Mr Khayat was appointed Luxor's governor by President Morsi last week.
One of Gamaa Islamiya's leaders, Safwat Abdel Ghani, told local media the group had "asked the new governor to resign for the sake of Egypt".
The group - which is blamed for a series of attacks in the 1990s - has since renounced violence.
BBC Arabic's Khaled Ezzelarab says the resignation came as no surprise, but that the opposition will see the decision as a victory against Mr Morsi, ahead of anticipated protests against his rule at the end of this month.
Luxor is a prime destination for tourists, though the local economy has been struggling as visitor numbers have dropped since Egypt's political uprising in 2011.
Tourism workers there had protested against the appointment and Tourism Minister Hesham Zazou offered his resignation to the prime minister.