Iraq protest camp hit by deadly twin suicide bombings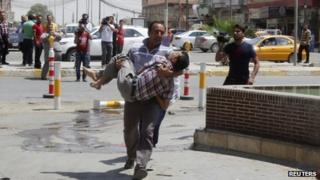 At least 10 people have been killed in Iraq after two suicide bombers targeted a protest camp north of the capital, Baghdad, officials say.
The attack took place near the village of Tuz Khurmato, 175km (110 miles) north of Baghdad.
The protesters are understood to have been ethnic Turkmen demanding better security for the area.
In January at least 23 people were killed by a suicide bomber at a Shia mosque in the village.
At least 55 people were wounded in the latest attack in the village. Local politicians were reported to have been among those killed.
Tuz Khurmato is part of an area disputed between the government in Baghdad and ethnic Kurds, who inhabit a semi-autonomous region in the north and claim territory in four other nearby regions.
Also on Tuesday, at least three people were killed when a bomb exploded on a bus near the southern Iraqi town of Iskandiriya carrying Shia pilgrims to the holy city of Karbala.
In Baghdad, two guards were wounded when gunmen fired on a church.
There has been a recent surge in sectarian violence in Iraq, with last month the bloodiest since June 2008.
On Monday, a series of car bomb explosions in Baghdad targeting mostly Shia areas killed more than 30 people and injured dozens more.