US and Russia to meet to discuss Syria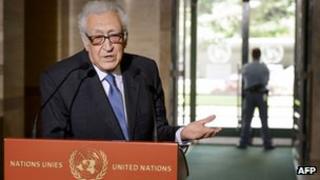 US Secretary of State John Kerry and Russian Foreign Minister Sergei Lavrov will meet next week to discuss the Syrian conflict, the UN said.
The announcement came after US, Russian and UN diplomats held "constructive" talks in Geneva to organise an international conference on Syria.
Proposals for possible dates required further consultation, the UN added.
The peace forum, convened by the US and Russia, aims to find a political solution to the conflict.
Tuesday's meeting marked the second time this month that senior diplomats met to try to reach an agreement over details of the conference, which was originally meant to be held in June, then in July.
"The discussions were constructive, and focused on ways to ensure that the Geneva Conference on Syria can take place with the best chances of success," the UN said in a statement after the meeting.
'Relentless destruction'
The UN-Arab League envoy for Syria, Lakhdar Brahimi, who mediated the talks, earlier told reporters he did not expect the event to take place until later in the summer.
He added that the situation in Syria was not improving.
"It is still relentless destruction, killing, more suffering, more injustice, and more uncertainty for the future of the Syrian people," Mr Brahimi said.
In early May, Mr Kerry and Mr Lavrov first agreed to work towards convening the international conference.
Relations between both countries have been strained over Syria, with Russia refusing to back international calls for President Bashar al-Assad to step down.
The conference will try to encourage both the Syrian government and opposition to accept a solution based on the core elements of the final communique issued on 30 June 2012, after the UN-backed Action Group for Syria meeting.
The communique called for an immediate cessation of violence and the establishment of a transitional government that could include officials serving under President Bashar al-Assad and members of the opposition.
More than 90,000 people have died since the uprising began in March 2011.