Fresh allegations of torture used on UAE detainees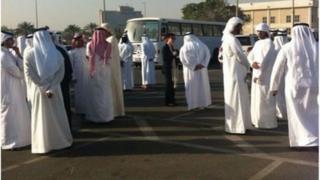 Three human rights organisations have released details of what they call "credible allegations of torture" of detainees by authorities in the United Arab Emirates (UAE).
The groups, including Amnesty and Human Rights Watch, were given 22 letters smuggled out of prison.
The letters described sleep deprivation and beatings.
They include some from 94 activists said to be members of an Islamist organisation, who are on trial.
The group are charged with plotting to overthrow the United Arab Emirates government.
One of the letters described being beaten "with a plastic tube all over my body."
It said: "I was tied to a chair and threatened with electrocution if I didn't talk. I was humiliated and insulted".
'Secret cell'
The group - all Emiratis - was arrested in a series of raids last year and went on trial in February.
Their families were denied visitation rights during pre-trial detention which in some cases had lasted for almost a year.
Legal representation was also severely curtailed according to the three human rights organisations.
Among the 94 are two prominent human rights lawyers, as well as judges, teachers, and student leaders.
The government alleges that they were part of a secret cell with links to the Muslim Brotherhood organisation.
Most of those arrested belong to the conservative religious society al Islah.
A decision on the case is expected 2 July in the Federal Supreme Court in Abu Dhabi.
If convicted, the activists, including 13 women, face up to 15 years in jail, with no right of appeal.
'Fair trial issue'
The new allegations follow earlier torture claims that human rights organisations say have not being investigated.
The authorities have banned foreign media and international observers from the trial.
Joe Stork of Human Rights Watch told the BBC that in addition to the torture issue, "there is a basic fair trial issue.
"There is no evidence that shows activity of a criminal nature. Peaceful political dissent should not be criminalised".
However the UAE Attorney General has insisted that the prisoners are being "dealt with according to the law".