Baghdad cafes hit by wave of deadly bombings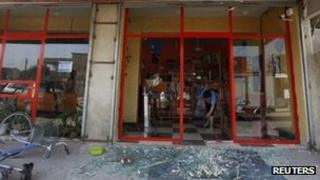 At least 16 people have been killed in a series of bombings that struck crowded cafes in and around the Iraqi capital, Baghdad, officials say.
The bombs went off on Thursday evening when the coffee shops were filled with people watching a football match.
Earlier this week, at least 10 people died when two suicide bombers targeted a protest camp north of the capital.
There has been a recent surge in sectarian violence in Iraq, with last month the bloodiest since June 2008.
Public places such as mosques, restaurants and local markets have been singled out for attack.
Two of Thursday's blasts went off at cafes in northern and southern areas of Baghdad, where scores of young men had gathered to watch football on television.
The attacks killed at least eight people, Reuters news agency reports.
Further explosions were also reported near coffee shops in nearby towns south of the capital.
On Tuesday, a spate of car bomb explosions in Baghdad claimed more than 30 lives.
Last month was Iraq's bloodiest since June 2008, with 1,045 civilians and security officials killed.
Tensions between Iraq's Shia Muslim majority, which leads the government, and minority Sunnis have been steadily growing since last year.
Sunnis have accused Prime Minister Nouri al-Maliki of discriminating against them - a claim the government denies.