Iraq violence: Militiamen killed in Ramadi twin blasts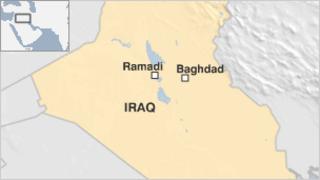 Two bombs have killed at least 10 people in Ramadi, western Iraq.
One bomb went off inside a Sunni militiaman's car, killing him and other officials, and a second device went off minutes later as people gathered around the wreckage.
The attacks come a day after a series of bombings struck cafes in and around the capital, Baghdad.
There has been a recent surge in sectarian violence in Iraq, with last month the bloodiest since June 2008.
Public places such as mosques, restaurants and local markets have been singled out for attack.
One man at the scene of the Friday attacks is quoted as saying by the Reuters news agency: "We were on duty at a nearby checkpoint when the car exploded. We ran to work out what was going on, but before we reached the car it exploded again."
Many of Friday's victims were members of the Sahwa militias formed in 2006 to fight al-Qaeda militants.
Since then, the group has been a target for Sunni insurgents who consider its members traitors for remaining loyal to the Shia-led government.
On Tuesday, a spate of car bomb explosions in Baghdad claimed more than 30 lives.
Tensions between Iraq's Shia Muslim majority and minority Sunnis have been steadily growing since last year.
Sunnis have accused Prime Minister Nouri al-Maliki of discriminating against them - a claim the government denies.