Angry mood in provincial Egypt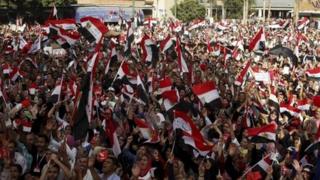 Demonstrations and some clashes against President Mohammed Morsi have been taking place around Egypt.
The protesters are complaining about what they see as the failure by the country's first Islamist president to tackle economic and security problems during his first year in power.
While Cairo saw the largest protest since the 2011 revolution which ousted President Hosni Mubarak, BBC reporters have been describing the mood in several regional cities.
From Mahmoud Abu Bakr in Alexandria
Alexandria has become one of the biggest centres for anti-Morsi protests in Egypt.
Marchers came from all over the governorate to congregate in Sidi Gaber Square to begin a sit-in to demand that Mr Morsi step down.
The most striking aspect of the protests in Alexandria is the variety of people here - veiled and non-veiled, some with the full face veil. But in contrast, some young people are wearing shorts.
At least 100,000 people gathered in Sidi Jaber Square in an extraordinary atmosphere - a mixture of anger and celebration in the air.
Policemen joined the protesters, some of whom even got into the police vehicles.
The demonstrators held up red cards to Morsi and calling him a failed president. They shouted, "Leave! Leave!"
From Ali Gamal in Zagazig
Thousands of opponents of the Egyptian president protested in front of the building of the governorate of Sharkeya in Zagazig, his hometown. Only 2km away police blocked the street leading to a building where Mr Morsi's relatives live.
Dozens of police vehicles were deployed. And even though protesters were chanting pro-army slogans, no military vehicles were seen in the city. But three military aircraft hovered above the protesters.
Mr Morsi's opponents burned the headquarters of the Muslim Brotherhood. Anti-Morsi protesters also burned down an office of the Brotherhood's Freedom and Justice Party in Abu Hammad town in the same governorate.
Two days ago, angry protesters burned two and looted two other offices in the city of Zagazig. The protests remain peaceful at this point, as pro-Morsi protesters want to avoid bloodshed and have not organised any rallies.
One Muslim Brotherhood member was killed and 80 were injured two days ago during clashes between pro- and anti-Morsi supporters.
From Osama Abdel Tawab in Port Said
Protesters filled the streets and squares of Port Said holding up red cards against Mr Morsi bearing the word "Leave!"
There were no counter-protests of Morsi supporters to be found. Port Said was the first city to announce civil disobedience until the president leaves office.
Military helicopters flew overhead, while soldiers guarded the governorate offices. The demonstrators decided to start a sit-in in Martyrs' Square, near the security headquarters.
Streets leading to the square were closed, as were many shops, possibly to take part in the civil disobedience.