Can Hassan Rouhani break Iran nuclear impasse?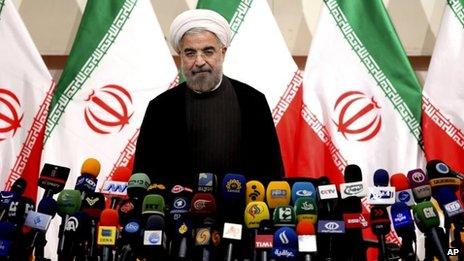 Since Hassan Rouhani's victory in the presidential election in June, there has been no shortage of optimism among ordinary Iranians over his campaign promise that better days lay ahead.
This was reflected in the rise in value of Iran's battered currency, the Rial, and a turnaround in Tehran's stock market after a lengthy downturn.
Many Iranians are hoping Mr Rouhani's moderate posture on the campaign trail will help ease international sanctions over Iran's nuclear programme.
But while there are grounds for Iranians to feel hopeful, it may not be that simple.
Mr Rouhani's widely quoted line - "Our centrifuges must turn, but so must our country," - struck a chord with voters.
As chief nuclear negotiator from 2003-05, Mr Rouhani managed to secure an agreement with France, Germany and the United Kingdom under which Iran suspended uranium enrichment in exchange for promises of trade talks.
The accord unravelled, though, when hardline President Mahmoud Ahmadinejad took office in 2005, appointed a tougher team of nuclear negotiators and resumed uranium enrichment.
Mr Rouhani has given few details about how he intends to resolve the current impasse over his country's atomic programme when he takes office next month.
He has only acknowledged that "circumstances have changed" and stressed the need for flexibility and "wisdom" in nuclear negotiations.
Former British Foreign Secretary Jack Straw, who was involved in nuclear talks with Mr Rouhani from 2002-04, described Mr Rouhani as "respectable", ''trustworthy" and ''capable'' in an interview with BBC Persian radio.
He blamed American neo-Conservatives and Israel for scuttling steps he took with Mr Rouhani to improve relations between Iran and the West.
In the US, there are voices of dissension being heard with regards to Iran: On Capitol Hill, support for a diplomatic resolution is attracting unprecedented - albeit minority - support.
By Thursday night, 118 House members - a quarter of their number - had signed a letter to the White House urging the Obama administration to "utilise all diplomatic tools" with Mr Rouhani.
"It would be a mistake not to test whether Dr Rouhani's election represents a genuine opportunity for progress toward a verifiable, enforceable agreement that prevents Iran from acquiring a nuclear weapon," said the letter.
The White House, which has led the drive for sanctions, has described Mr Rouhani's election victory as "a potentially hopeful sign".
Mr Rouhani can also take heart from recent European Court rulings against EU sanctions on Iranian companies and individuals alleged to be involved in furthering Iran's nuclear programme.
These rulings have embarrassed European policy makers and raised alarms in Washington, amid fears the sanctions against Iran's political elites and businesses may unravel.
Another piece of good news for Mr Rouhani as he approaches his inauguration is the recent refusal of the UN Security Council to back a report by its investigative committee that concluded Iran has violated the sanctions.
The report said Iran had violated the sanctions when it launched ballistic missiles, shipped arms to Yemeni insurgents and sought "dual-use items", referring to technology that can be used for both peaceful and military aims.
Diplomats at the UN have said that Russia and China were opposed to the report's findings and referred to Mr Rouhani's election as a reason to pause before taking further action against Iran.
'Wolf in sheep's clothing'
For the same reasons that Jack Straw believes so-called hardliners in the US and Israel were, in his opinion, seeking confrontation over compromise, Iran's incoming administration may have a harder job than optimists believe.
Israeli Prime Minister Benjamin Netanyahu has said Mr Rouhani's approach is that of "a wolf in sheep's clothing - smile and build a bomb".
Israel has consistently called on the US and the international community to take a tougher line on Iran's nuclear activity. It has also warned that it will "not wait until it's too late" to take military action.
Such warnings may encourage more Western-backed sanctions against Iran in the hope of avoiding military confrontation.
The American Israel Public Affairs Committee (Aipac), a pro-Israel lobby group, has also kept up the pressure recently by sending a letter to President Barack Obama, urging him to step up sanctions on Iran.
The letter has been circulating in the House of Representative where members are preparing to vote on a new bill, the Nuclear Iran Prevention Act, that aims to step up sanctions against US allies for trading with Iran.
The Obama administration has so far resisted calls to impose further sanctions, preferring to give diplomacy more of a chance.
Moreover, European lawyers have indicated there are plans under consideration to overhaul the sanctions regime in a bid to counter the European Court rulings against existing sanctions.
Ultimate power in Iran resides with the Supreme Leader, Ayatollah Ali Khamenei, and it is no secret he was very dissatisfied with the outcome of nuclear negotiations during Mr Rouhani's tenure, believing he offered too many concessions to Western powers.
It is unclear whether Ayatollah Khamenei will allow Mr Rouhani to follow the same path as president that he did as chief nuclear negotiator.
Ayatollah Khamenei may even choose to leave Mr Rouhani out of the negotiations process all together, as he did with outgoing President Ahmadinejad.
The pro-Khamenei elite have so far been surprisingly accommodating in allowing Mr Rouhani to push his "moderate" agenda and discourse.
However, there are rumblings within the Iranian establishment over how far Mr Rouhani can be allowed to take the lead in nuclear talks.