Dubai sentences Norwegian woman who reported rape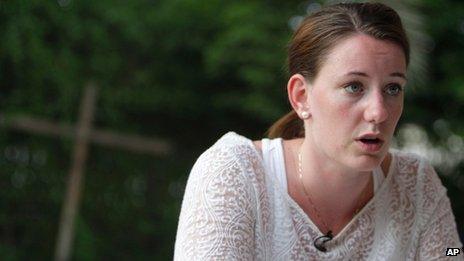 A Norwegian woman has spoken out about the 16-month prison sentence she received in Dubai after reporting a rape incident to police.
Interior designer Marte Deborah Dalelv was on a business trip in Dubai when she says she was raped.
The 24-year-old reported the March attack to the police but found herself charged with having extramarital sex, drinking alcohol, and perjury.
Convicted earlier this week, she says she is appealing against the verdict.
The appeal hearing is scheduled for early September.
Describing the sentence as "very harsh", she told the AFP news agency: "I am very nervous and tense. But I hope for the best and I take one day at a time. I just have to get through this."
The case has angered rights groups and the authorities in Norway.
Ms Dalelv says she had been on a night out with colleagues on 6 March when the rape took place.
She reported it to the police, who proceeded to confiscate her passport and seize her money. She was charged four days later on three counts, including having sex outside marriage.
Her alleged attacker, she said, received a 13-month sentence for extra-marital sex and alcohol consumption.
The Norwegian government had secured Ms Dalelv's conditional release so, since being charged, she has been living under the protection of the Norwegian Seamans' Centre in Dubai.
But she told Norway's NRK News that following her sentencing on Tuesday she was now officially wanted by the Dubai authorities.
"I should have been imprisoned since Tuesday," she said. "But I have been told they are not searching for me."
The sentence has been condemned by Norway's Foreign Minister Espen Barth Eide who is quoted as saying that it "flies in the face of our notion of justice" and was "highly problematic from a human rights perspective".
The Norwegian authorities are reportedly trying to contact the authorities in Dubai about the situation.
The London-based Emirates Centre for Human Rights called on the United Arab Emirates (UAE), to which Dubai belongs, to quash Ms Dalelv's conviction.
It said the UAE's claims that it is attempting to end discrimination against women was undermined by a legal system that "prohibits the achievement of justice for cases of sexual violence against women".
According to the Emirates Centre for Human Rights, UAE law states a rape conviction can only be secured after a confession or as the result of testimony from four adult male witnesses to the crime.
Dubai has undergone a rapid transformation in recent years, emerging as a five-star trade and tourism destination with its tax-free salaries and year-round sunshine.
It is now one of the world's most cosmopolitan cities with foreign workers and visitors greatly outnumbering the local population.
But it remains a deeply conservative region, and its strict laws have caught out foreigners in the past. Public displays of affection and drunkenness are frowned upon.
A British couple, Ayman Najafi and Charlotte Adams, were jailed for a month in 2010 after they shared what Mr Najafi described as an "innocuous peck on the cheek" in a restaurant. A witness said they had kissed on the mouth.
Another British couple, Vince Acors and Michelle Palmer, were jailed for three months in 2008 for having sex on a public beach - an allegation they denied.