Syria opposition condemns Khan al-Assal 'executions'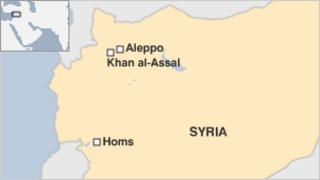 Syria's main opposition alliance has condemned the alleged execution of government forces when rebels captured the northern town of Khan al-Assal.
The Syrian Observatory for Human Rights said 150 soldiers had been killed last week, 51 of them summarily executed.
State media accused "terrorist groups" of committing a massacre, and said most of the victims had been civilians.
On Sunday, the National Coalition promised to investigate the incident and hold accountable those responsible.
It came two days after a rebel group, calling itself the Supporters of the Islamic Caliphate, posted a video online purportedly showing about 30 bodies of young men, who it claimed were pro-government militiamen.
'Massacre'
At the same time, the SOHR said it had received reports from locals that more than 150 "regime forces" had been killed by rebels who took over Khan al-Assal on 22 and 23 July.
"About 51 of the casualties were summarily executed by the rebels. They included about 30 officers and line officers," the UK-based activist group.
The state news agency, Sana, reported on Saturday that 123 people had died. Bodies had been mutilated and thrown "in a big hole on the outskirts of the town" or "incinerated", it added.
In a statement, the National Coalition said it condemned "in the strongest possible terms, infringements of the Geneva Conventions and all other violations of human rights conventions".
"The coalition condemns this act and declares the formation of a commission of inquiry to investigate the incident. All those involved in such crimes will be held accountable."
However, the coalition said initial reports suggested the fighters involved in the executions were not affiliated with the Supreme Military Council of the Free Syrian Army (FSA).
The al-Qaeda-linked al-Nusra Front was reportedly among the groups to have ousted government forces from Khan al-Assal.
Khan al-Assal, a strategically important town near the city of Aleppo, was at the centre of allegations in March that chemical weapons were being used, with both sides blaming the other for an attack that left 30 dead.