Scepticism all round amid renewed Mid-East peace talks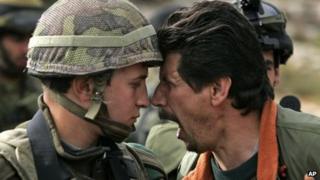 As he announced the goal of reaching a peace deal between Israel and the Palestinians over the next nine months, the US Secretary of State John Kerry acknowledged the doubts that many feel about the chances of success.
"I know the path is difficult. There is no shortage of passionate sceptics," he said.
But he said while he understood the scepticism, he did not share it.
"A viable two-state solution is the only way this conflict can end, and there is not much time to achieve it, and there is no other alternative," he said.
A day after his statement, reaction in the region has been muted.
Cynics, who are in the majority, say they have heard it all before. A handful of optimists are allowing themselves to hope.
Sobriety key?
"No joy, no thrills, no spills" was a headline in the Israeli newspaper Haaretz above an article by Barak Ravid.
"Scepticism about the process... is widespread and expectations are lower than ever before," Mr Ravid writes. "But this very sobriety might hold the key to success."
The Israeli Prime Minister Benjamin Netanyahu has said that peace talks with the Palestinians are in Israel's interests.
Israel and the Palestinians have accused each other of not being serious about wanting to reach a peace deal.
Israel has said the Palestinians are trying to get maximum concessions before sitting down and talking, while some observers say Mr Netanyahu's agreement to negotiate is a tactic to avoid international pressure.
But Mr Netanyahu's former National Security advisor, Uzi Arad, rejects that view. He says he is "not that defeatist about the process".
"I resent this kind of questioning of the seriousness of people," he says.
"Let us ask whether indeed there is a genuine interest on the part of Netanyahu and a hope that this may result in something, maybe not everything. Of that I am convinced."
For now, Mr Netanyahu's coalition partners, including the right-wing Jewish Home party, are letting him proceed. But a Jewish Home member of the Knesset, Ayelet Shaked, says she thinks the two-state solution is an illusion.
"I am not optimistic. I don't think anything will happen from those talks. I understand the need to talk with the Palestinians, but the gaps are too big."
Many Palestinians are deeply sceptical about the prospects for peace, both in the West Bank, where President Mahmoud Abbas is in power, and in the Gaza Strip, which is controlled by the Islamist group Hamas.
'Not listening'
Under its charter, Hamas is committed to the destruction of Israel. It has repeatedly condemned efforts for peace.
"We are sure the negotiations will fail, as they failed in the past 20 years and unfortunately the only beneficiary is the [Israeli] occupation, by covering their crimes in light of these negotiations," Hamas spokesman Sami Abu Zuhri told the AP news agency.
In the West Bank, Mustafa Barghouti, a member of the Palestinian Legislative Council, said he hoped Mr Kerry's optimism about peace was justified, but he said he was "very worried about the fragility of the situation".
"We don't want a peace process that is a substitute for peace," he said. "We have had this before for 20 years. We want a real process that leads to a real outcome."
Without US pressure on Israel, Mr Barghouti says, that will not happen.
In the West Bank town of Bethlehem, there was similar gloom as the Abu Aker family met to break the Muslim Ramadan fast at an "iftar" meal. Sitting with her children and grandchildren, Um Nidal said she did not believe the talks would bring peace.
"If there are real politicians who make peace, I won't say no," she said.
"But there is no peace. [US President Barack] Obama isn't listening. Netanyahu isn't listening. They are making fun of the Palestinian people."