Syria conflict: Assad says he is 'sure of victory'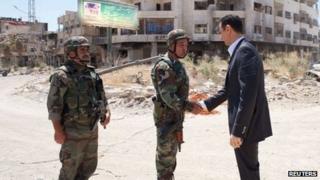 Syrian President Bashar al-Assad has said he is "sure of victory" over rebels fighting to topple him, in a message to the army.
"If we in Syria were not sure of victory, we would not have had the will to... persevere in the face of more than two years of aggression," he said.
Meanwhile, the UK-based activist group the Syrian Observatory for Human Rights reported a huge blast in Homs city.
It said 40 had been killed in a rocket strikes by rebels on a weapons depot.
Unverified footage apparently showed the strike blasting a huge fireball high into the air above the city, and causing secondary explosions.
It comes after troops recaptured a key district of Homs on Monday.
A month ago, troops launched an offensive to oust rebels from the city.
The army has also been on the offensive in the eastern suburbs of the capital and west of the main northern city of Aleppo.
'Rare courage'
Mr Assad released his message to troops on the occasion of the 68th anniversary of Army Foundation Day, said state news agency Sana.
"I have great faith in you and confidence in your ability to... fulfil the national mission that has been assigned to you," Mr Assad told Syrian troops.
"You have shown rare courage in the battle against terrorism and you have impressed the whole world with your resistance... in one of the most brutal and ferocious wars of modern history," he said.
Later he reportedly made a rare trip outside Damascus, to the former rebel stronghold of Daraya, just south-west of the capital. He was pictured on his Facebook page with soldiers against a backdrop of war-damaged buildings.
Mr Assad's comments come after Syrian troops scored several major victories against the rebels over previous months, mostly in the central province of Homs and near Damascus.
Homs has been a focus of unrest in the two-year uprising against President Assad, in which the UN says more than 100,000 people have died.
On Wednesday, Syria agreed to allow UN investigators to visit three sites where chemical weapons have allegedly been used, the UN said.