Egypt crisis: Fears of failure for foreign mediation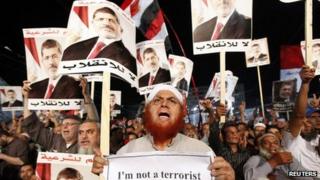 International mediators have expressed fears attempts to solve Egypt's crisis may fail, with one US senator warning it could be "days from bloodshed".
John McCain and fellow senator Lindsey Graham urged the military-backed government to free political prisoners.
They also urged talks with the Muslim Brotherhood of Mohammed Morsi, who was ousted by the military on 3 July.
But acting President Adly Mansour warned against "unacceptable interference in internal affairs".
The Brotherhood has also criticised the US senators.
Envoys from the European Union, Qatar and the United Arab Emirates are also in the country trying to resolve the crisis.
Fears are growing that the army will move in to break up two pro-Morsi sit-ins in Cairo, triggering further violence and bloodshed.
Egypt has been in turmoil since Mr Morsi - Egypt's first freely elected president - was overthrown last month following mass demonstrations against him. He is being detained at an undisclosed location.
'Reconciliation'
The two US senators held talks on Tuesday with interim Vice-President Mohamed ElBaradei, Prime Minister Hazem Beblawi, and the head of the armed forces, Gen Abdul Fattah al-Sisi.
They also met members of the Brotherhood's political wing, the Freedom and Justice Party (FJP).
Mr McCain later told US broadcaster CBS that the unrest could turn into "all-out bloodshed" in coming days if efforts to find a political solution failed.
"Oh my God, I didn't know it was this bad," he said. "These folks are just days or weeks away from all-out bloodshed.
"There is only one way to bring about a peaceful Egypt and that is the process of negotiation and reconciliation between the major players."
Asked if they thought Egypt might fail, Mr McCain said: "I think it might. I wouldn't be here if I didn't think that it might and I think the events in the next few weeks will determine that."
Mr Graham added: "I'll go one step further. I think it's going to fail if something doesn't change."
However, their earlier reference to the overthrow of Mr Morsi as a "coup" - a word the Obama administration has chosen not to use - appeared to have angered Egypt's interim leaders.
State TV quoted Mr Mansour as calling Mr McCain's comments "an unacceptable interference in internal policies".
His spokesman, Ahmed al-Musalamani, earlier told reporters that "foreign pressure" had "exceeded international standards".
Some private TV talk shows also reacted angrily to the senators. Lamis al-Hadid of CBC TV called them a "big insult to Egypt and its people".
The state-run al-Ahram newspaper, citing official sources, said the government was poised to announce that foreign mediation efforts had failed.
It said the interim leadership now planned to proceed with its own "road map" for elections in nine months' time.
A leading member of the Muslim Brotherhood also rejected the US senators' statements.
Hassan el-Prince said the US was trying "to jump out of the sinking boat of the coup leaders".
Another US senator, Robert Casey, later told the BBC that the US should make military aid to Egypt more dependent on Cairo developing durable democratic institutions.
Senator Casey - who is a member of the national security working group - said the US could also help the Egyptian people more directly, for example by providing food aid.
Earlier this week, there were reports that the interim government was prepared to release leaders of the Muslim Brotherhood from custody and offer the group ministerial positions if they called an end to the sit-ins.
However, a presidential adviser denied such an offer had been made.