Lebanon border: Blast injures four Israeli soldiers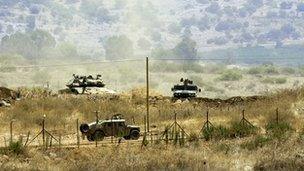 Four Israeli soldiers have been injured in an explosion on the country's border with Lebanon.
They were wounded in "activity near the border" on Tuesday night, an Israeli military spokesman said.
The Lebanese army said the soldiers were inside Lebanon at the time. It called the incident a "new violation of sovereignty".
The Israel-Lebanon border area has been generally quiet since conflict in 2006 with Lebanese Hezbollah militants.
The United Nations drew up an unofficial "Blue Line" border in 2000 after Israel withdrew troops and ended a 22-year presence in southern Lebanon.
The Israeli military did not say what had caused the blast or exactly where it occurred.
The Lebanese army said an Israeli infantry patrol "penetrated 400 metres (yards) inside Lebanon in the Labouneh area at 00:24 local time" (21:24 GMT Tuesday).
"An explosion took place and the soldiers were wounded, with blood found at the scene."
The official Lebanese news agency said the soldiers were injured by a landmine.
The French news agency AFP reported that barbed wire marking the border had been cut, and two blasts had occurred in a pine forest several hundred metres into Lebanese territory.
An unnamed Lebanese officer told AFP that "two devices, whose nature we do not know, exploded".
Lebanese officials have opened an investigation in co-ordination with the UN Interim Force in Lebanon.
Related Internet Links
The BBC is not responsible for the content of external sites.