Iran political prisoners urge US to end sanctions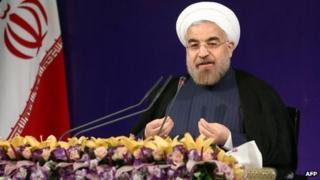 More than 50 political prisoners in Iran have asked US President Barack Obama to end sanctions against Tehran.
In a letter published in Britain's Guardian newspaper, they say sanctions have turned into a collective punishment of the Iranian people.
They say the recent election of Hassan Rouhani as Iranian president means the time has come for a "new era of mutual understanding".
The letter's signatories include some of Iran's leading opposition figures.
The reformist politician Mohsen Aminzadeh, and Faezeh Hashemi - the daughter of the former president Hashemi Rafsanjani - are among those to sign.
US-Iran relations soured under former President Mahmoud Ahmadinejad.
Western powers suspect Iran of seeking to develop nuclear weapons, but Tehran has always insisted that its nuclear programme is only concerned with generating energy.
Iran has repeatedly rejected many demands by the so-called P5+1 - the five permanent members of the UN Security Council plus Germany - to halt uranium enrichment.
'Last chance'
"We, the undersigned current and former political prisoners in Iran, are writing this letter to bring to your attention the devastating effects of crippling economic sanctions," the letter begins.
"These efforts are adversely affecting the lives of Iranian people and have resulted in severe constraints in the political life of our country."
The signatories say that Iran's nuclear programme has developed into a "perilous contest" with the US, which has undermined mutual trust.
But they go on to say that Hassan Rouhani is a firm believer in dialogue, with a clear past record of negotiations over the nuclear issue.
"In our view, the tenure of this government may be the last chance to bring this conflict to a reasonable and mutually acceptable resolution," the letter says.
Mr Rouhani was inaugurated as Iran's president on Sunday, and in his first news conference he called for "serious and substantive" negotiations with the international community.
The White House has also indicated it is open to dialogue, issuing a statement saying said Tehran would find "a willing partner" in the US.