Sinai airstrike on militants in Egypt kills five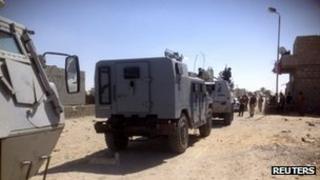 An airstrike in Egypt's Sinai peninsula has killed five Islamist militants near the Israeli border, officials say.
It was not clear who had carried out the airstrike. Egyptian military officials say they are investigating the incident.
Those targeted were preparing to launch a rocket into Israel, reports said.
The Egyptian army has been trying to contain a surge in violence that has hit the restive region following the overthrow of President Mohammed Morsi.
Explosions were heard on Friday evening in an area of the North Sinai governorate around 3km (1.8 miles) from the Israeli border.
Unnamed Egyptian security officials said that the strike had been carried out by Israel.
However, Israel's military spokesperson declined to comment and Egyptian officials publicly denied there had been any Israeli raid.
"The armed forces are combing the area of the explosions to find out the cause," said army spokesman Col Ahmed Ali.
On Thursday, Eilat airport in southern Israel was briefly shut after the military ordered the closure of surrounding airspace.
Eilat has previously been targeted by rockets fired by Islamist militants in Sinai.