Cairo camp clashes: Your experiences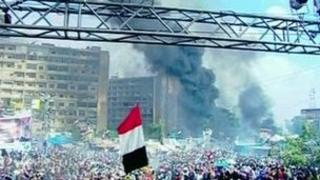 Egyptian security forces have moved in to clear two protest camps occupied by supporters of deposed president Mohammed Morsi in Cairo, with reports of many killed.
The Muslim Brotherhood said more than 100 died, but the authorities put the death toll much lower.
Here, people in the districts affected by the violence share their experiences with the BBC.
Harry Shukman, Abdeen, Cairo
"I walked through downtown Cairo this morning through empty streets that are usually filled with traffic, noise and life.
I saw extra Central Security Force officers placed at entrances to Tahrir Square with rifles ready to fire birdshot and tear gas.
Military posts that have been in the area for weeks looked reinforced with more men.
The news agency where I work was quiet. Most people chose not to come to the office and those that did were distraught as the brutal stories and images streamed in.
Government offices near our building in Abdeen were evacuated just as their counterparts around Egypt were attacked, raided and burned.
Downtown Cairo in the evening was more subdued than ever.
Metal shutters were rattled down the walls of shops while some cars drove by overloaded with suitcases heading out of the city.
Now the casualty figures keep rising as people nervously try to predict not just what will happen in the next few days but the next few hours."
Dr Mostafa Awadh, Rabaa, Cairo
"I woke up around 06:30, with explosions and the smell of gas. It was terrifying.
I heard a few shouts for people to withdraw, so I hurried to the balcony.
I found the police forces running around below, and low-flying army helicopters shooting randomly.
Our double-glazed window was hit by random helicopter fire.
Police snipers are above the nearby school buildings, shooting any resident hurrying to the square.
The police forces are arresting residents and using their cars as shields.
Not all of them are wearing uniform but all of them have gas masks.
We are 500m from the periphery of the square."
Mohamed Abdel-Ghaffar, Almohandeseen, Cairo
"I was at Nahda Square a few hours ago. I left the square before the authorities moved in.
I'm now in front of the Mostafa Mahmoud mosque, located in the Al-Mohandaseen area in the middle of Cairo.
It is here that the protesters who were cleared from the Nahda Square are gathering and setting up an alternative camp.
I have been protesting at Rabaa and Nahda Squares for the past two months.
Our main demand is the return of our democratically elected president."
Abdullah Alhussainy, Rabaa Adawiyya, Cairo
"I live about 100m away from the square at the Nasr and Yusuf roads intersection.
The military started clearing the camp around 07:00, when I was awoken by the commotion.
I can now see from my window about 50 military personnel moving in even closer to clear the square.
They have been shooting and throwing tear gas canisters from a distance since earlier today."
Hannah Taha, 6th of October City, Cairo
"I was caught up in the Al-Mohandeseen area earlier, while I was visiting family members.
Morsi supporters started gathering there this morning after they were cleared from Nahda Square by security forces.
I made my way home as early as I could, as I didn't want me and my kids getting caught up in any clashes between the two sides."