Iran MPs reject three Hassan Rouhani cabinet choices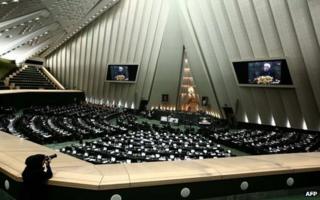 Iran's parliament - dominated by Islamic hardliners - has rejected three of the new President Hassan Rouhani's 18 nominees for his cabinet.
The men nominated for education, sports and science ministries, were allied to the reformist camp. They drew criticism for having Western educations.
Education nominee Mohammad Ali Najafi and science nominee Jafar Milimonfared were accused of fomenting unrest after Iran's disputed elections in 2009.
Mr Rouhani was elected in June.
First test
The vote in the parliament, known as the Majlis, represented the first test of the new president's standing among MPs.
Parliament's vote of confidence in 15 ministers, including all the key ministers, means that President Rouhani may have an easier passage through parliament than expected, says Kasra Naji of BBC Persian.
Mr Rouhani's nominee, Mohammad Javad Zarif, was approved as foreign minister. The Associated Press reports that he did postgraduate studies at San Francisco State University and obtained a doctorate in international law and policy at the University of Denver.
Former oil minister Bijan Namdar Zanganeh was also endorsed by MPs to take up his old portfolio.
His ministry is seen as particularly powerful given that oil revenues make up to 80% of Iran's foreign income.
Hardliners' claims
During four days of debate in parliament, hardliner MPs repeatedly accused some of the proposed ministers of being close to the reformist camp.
Masoud Soltanifar - put forward by Mr Rouhani to be minister for youth and sports - was accused of being inexperienced.
Mr Soltanifar received 117 votes in his favour, 148 against and 18 abstentions, with a total of 283 votes cast, according to state media.
Hassan Rouhani was sworn into office on 4 August and gave parliament his choices for cabinet ministers on the same day.
The president had urged lawmakers to vote for all his nominees as a "united and integrated system."
He asked MPs to resolve their disagreements over the 2009 election.
"A few years ago, bitter incidents took place," he said. "One group mobilised street rallies and another group made the Kahrizak (detention centre). We all know that terrible things happened."
He was hinting at the Kahrizak prison in the suburbs of Tehran, where a number of the arrested protesters were allegedly tortured and killed.
President Rouhani has up to three months to name replacement ministers.
He has pledged to resolve the impasse over the country's nuclear programme.
The West says Iran's programme has a military aspect. Iran denies the charge, saying its nuclear activities are for peaceful purposes.