Egypt under pressure from Brotherhood and military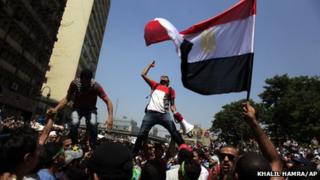 From the moment the Muslim Brotherhood announced plans for a "Day of Anger", the stage was set for potential violence.
We made our way to Ramses Square as Friday prayers came to an end, only to find one road after another blocked by the army. Their resolve to seal off the area as far as possible was already clear.
In the end we made it to a bridge overlooking the gathering - many Muslim Brotherhood supporters found themselves in the same position.
The chanting had begun: "The Interior Ministry are thugs", 'If Sisi goes, Morsi will return".
There was not a woman in sight and emotions were already running high.
The sight of a military helicopter overhead enraged the crowd around me, who started shouting at it and showing it the soles of their shoes, a sign of disrespect.
Through the day, the desire of the authorities not to allow the establishment of a new protest camp was clear. From different parts of Cairo came the reports of marchers being blocked from approaching Ramses Square - we saw one of those confrontations unfold right outside the luxury Four Seasons hotel, a short distance across the Nile from our location.
Polarised attitudes
The battle for Egypt is between two uncompromising sides, and it is the polar attitudes of the army and the Muslim Brotherhood that are commanding the most airtime.
But there are many Egyptians whose views lie somewhere in the middle and who must not be forgotten, who are trying to run businesses, get to work, or perhaps simply exist in an atmosphere where no one is completely sure what tomorrow will bring.
I think of the man who came up to our team outside the Rabaa al-Adawiya mosque, asking if we could help him.
He owned a flower shop opposite the mosque's entrance, which is now no more than a burned-out shell. He didn't want airtime but advice - who did we think he should speak to about the loss of his property and his livelihood?
I think of another man, this time on that bridge overlooking Ramses Square, who said he was not a member of the Brotherhood but was angry that a leader Egypt had elected had been unceremoniously removed.
And I think of the wise words of the actor and activist Khalid Abdalla, star of films such as Green Zone and United 93, to whom I first spoke on the night that former President Hosni Mubarak fell back in February 2011.
Since then he's been involved with an activist group "Mosireen", committed to documenting abuses in Egypt.
"These are dark days," he told me, frustrated at the narrative of political division rather than the institution-building he longs to see.
Heated debate
As we stood talking by the Nile, a group of Cairo passers-by stopped, and started calling out to us, asking about Khalid's political allegiances.
Soon it became impossible for us to continue the interview and Khalid was soon engaged in a heated debate. Some in the group were angrier than others - one in particular accused the BBC of bias.
This was one thankfully non-violent moment in a day that sadly brought more death to Cairo.
But the emotion and anger was a reminder of how quickly tensions can spill over in a country in the midst of extreme turmoil.