Yemen wedding party swept away in floods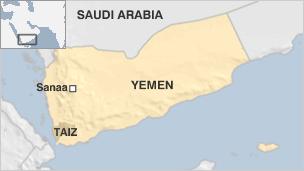 At least 27 members of a Yemeni wedding party have died after the vehicles they were travelling in were swept away by heavy floods, local officials say.
The victims, including women and children, were travelling through Wadi Nakhla in Taiz province, in the south of the Arab country.
The bride survived the incident, Reuters reports.
Several other people have been killed by flash floods in Yemen over the past two days.
Yemen, at the southern tip of the Arabian Peninsula, is prone to flooding during the Monsoon season.