Egypt crisis: Brotherhood condemns Mohammad Badie arrest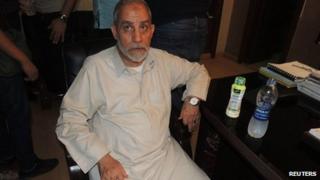 Egypt's Muslim Brotherhood has condemned the arrest of its leader Mohammad Badie over allegations of incitement to violence and murder.
A Brotherhood spokesman said the arrest was part of a plot against the 2011 revolution that ousted Hosni Mubarak.
Mr Badie was detained near the site of a Cairo protest camp cleared by police last week with heavy loss of life.
Meanwhile Egypt's former Vice President Mohamed ElBaradei is to face trial on charges of breaching national trust.
Mr ElBaradei, who is out of the country, resigned on 14 August after security forces dispersed two protest camps in Cairo set up by supporters of ousted President Mohammed Morsi.
In another development on Tuesday, President Barack Obama chaired a meeting of his National Security Council to review aid to Egypt, but the meeting produced no imminent changes to US policy, officials said.
Washington has already cancelled military exercises with Egypt in the wake of the recent violence and has been under pressure to make cuts to the $1.3bn (£830m) in annual military aid it gives to the country.
Egypt is under a state of emergency as the military-backed interim leaders crack down on Islamists opposed to the ousting of Mr Morsi.
Hundreds of members of the Muslim Brotherhood - the movement from which Mr Morsi comes - have been detained since Mr Morsi's overthrow on 3 July.
On Tuesday the Brotherhood urged its supporters to continue protests demanding the reinstatement of Mr Morsi.
At a news conference, Khaled Hanafi, a member of the Freedom and Justice Party - the political wing of the Muslim Brotherhood - said the organisation would not be thrown off course by Mr Badie's arrest.
"He is of huge value to us and we are in pain. But the Brotherhood operates as a coalition on all levels of society and this arrest will not affect our operations and our peaceful right to protest what so ever," he said.
Mr Badie has reportedly been temporarily replaced as "general guide" by Mr Badie's second deputy, Mahmoud Ezzat.
Mr Ezzat is also subject to an arrest warrant. Mr Badie's first deputy, Khairat el-Shater, was arrested in the days following Mr Morsi's overthrow on 3 July.
Mr Badie, 70, had initially been a prominent figure at the Brotherhood's protest camps in Cairo, but went into hiding as the military-backed interim government stepped up efforts to shut down the protests.
He is facing charges of inciting violence and murder over the deaths of eight anti-Brotherhood protesters outside the movement's headquarters in Cairo in June.
Officials said he had been detained in a flat in Nasr City in north-east Cairo, near the site of one of the protest camps broken up by security forces last week.
The interior ministry released TV footage of him apparently taken shortly after his arrest.
The BBC's Kevin Connolly in Cairo says the army wants the images to show the scale of its victory over the Muslim Brotherhood, and hopes the humiliation will weaken its voice in any future political negotiations.
Mr Badie's 38-year-old son, Ammar, died in last week's violence.
Almost 900 people have been killed across the country since Wednesday.
Among them are 36 Islamist protesters who died in a prison van in Cairo on Sunday.
The UN's human rights agency OHCHR has said the deaths of the detainees are "deeply disturbing and need to be fully investigated".
The Egyptian security crackdown has brought international condemnation.
European Union foreign ministers will meet on Wednesday to decide whether to cut some of the billions of euros in aid pledged to Egypt.
On Tuesday, Interim Prime Minister Hazem Beblawi told US broadcaster ABC news that any decision by Washington to cut military aid to Egypt "will be a bad sign - it will definitely affect the military for some time".
But he said Egypt's army would survive.
"Don't forget the Egyptian people went with Russian military aid for decades so there are ways that someone can survive," he said.
Mr Beblawi also supported the actions of the security forces in trying to end the protests.
He said that everyone was unhappy about the loss of life but the government had no choice when its authority was challenged in the streets.
Egypt is officially observing three days of mourning for 25 policemen killed by suspected Islamist militants near the Rafah border with Gaza in Sinai on Monday.
It was one of the deadliest attacks on security forces in several years.
In a separate incident, another police officer was killed in the north Sinai town of el-Arish.
Sinai is home to a range of militant groups, some linked to al-Qaeda, and while state media have not connected the killings to the Brotherhood, it has added to the sense of crisis, says the BBC Jeremy Bowen.
Meanwhile, Egyptian prosecutors have added a further 15 days to Mr Morsi's detention while they investigate fresh allegations against him.
He has reportedly been accused of complicity in acts of violence against protesters outside the presidential palace last December.
His detention had already been extended by 30 days in a separate case on Thursday.