Gaza: Hamas urges Egypt to reopen Rafah crossing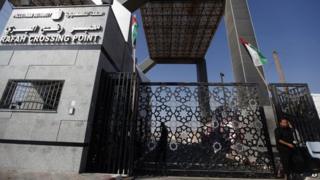 Officials from the Islamist group Hamas are urging Egypt to reopen the Rafah border crossing with the Gaza Strip.
The Egyptian authorities closed the crossing point this week after more than 20 Egyptian policemen were killed near the border by suspected militants.
Thousands of Palestinians, including students and medical patients, wanting to leave or enter Gaza have been stuck.
Hamas deputy foreign minister, Ghazi Hamed, told the BBC it was "a humanitarian issue."
Some 1,200 people were using the crossing each day while the former Egyptian President Mohammed Morsi was in power. However after he was removed by the military on 3 July the number fell to about 50 a day.
Since the attack near the Egyptian border town of Rafah on Monday it has been completely closed.
Hamas, which has close ideological ties with Mr Morsi's Muslim Brotherhood, has governed Gaza since 2007. It has an uneasy relationship with Egypt's new military-backed government.
Cairo has repeatedly accused Hamas of interfering in Egyptian affairs and has accused Palestinians of supporting Islamist militants in the increasingly restive Sinai region.
"They have a plan in order to distort the image of Gaza in order to start propaganda and media campaign against Gaza, against Hamas, in order to show Gaza is like a devil and Hamas is like a devil," Mr Hamed said.
"I think they succeeded to do this on the Egyptian street, in the Egyptian society."
Stranded
At the Rafah border crossing, large crowds of Palestinians continue to gather each morning hoping to exit Gaza. They bring large piles of luggage.
American-Palestinian, Jehad Adwan, returned to visit his family in Gaza for the first time in 13 years and brought his wife and children for a summer holiday.
They are now stuck, unable to return to their home in Minnesota.
"Every day we wake up at four or five am and come to the checkpoint and every day we get turned back. It's really frustrating and saddening and exhausting at the same time," Mr Adwan said. "We are really feeling trapped."
Rafah is Gaza's main gateway to the world while other crossings and transit points on the border with Israel are subject to strict restrictions, which Israel says are for reasons of security.
These were tightened after Hamas took over the Palestinian territory by force, a year after winning legislative elections.
Israel sees Hamas as a terrorist group. It only allows a limited number of Gazans to travel through its own passenger crossing at Erez, most for humanitarian reasons to receive hospital treatment. Supplies are sent into Gaza via the Kerem Shalom crossing.
This week a spokesperson for Israel's military said it was "preparing for an increase in requests" to allow a transfer of goods through Kerem Shalom and movement of people through Erez. "We will examine each request separately and decide on a case-by-case basis," he said.
'Security issue'
The Egyptian authorities insist that changes to procedures at the Rafah border are a security matter, not a political one.
However they add to the sense of Gaza's isolation.
"I think Hamas should be worried. Hamas lost an ally in the form of President Morsi who perceived Hamas as a legitimate organisation fighting for the Palestinian cause from his perspective," says Omar Ashour, a lecturer at the UK's Exeter University who is Egyptian and an expert on Islamist groups.
"At the moment, there is a return back to the foreign policy directions under [former president Hosni] Mubarak, perceiving Gaza principally as a security problem."
Not so long ago, many Palestinians here in Gaza and their Hamas leaders hoped to profit from the new regional order that followed the Arab uprisings.
Although the Syrian civil war led to the loss of its backers in Damascus and Tehran, the changes seemed to bring in more sympathetic Islamist governments elsewhere.
Now the future does not look so bright.
As part of its operation against Islamic extremists in the Sinai, the Egyptian military has also demolished many of the tunnels that lie under the border with Gaza.
Palestinian smugglers mainly use them to bring in cheap fuel and goods. However, sometimes militants use them too.
The destruction of the passages has resulted in a fuel crisis in Gaza and a shortage of building materials. It has also meant a loss of tax revenue for the Hamas government.