Syria chemical attack: What we know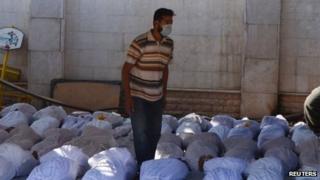 A team of UN chemical weapons inspectors have confirmed that the nerve agent sarin was used in an attack on the Ghouta agricultural belt around Damascus on the morning of 21 August.
UN Secretary General Ban Ki-moon told the UN Security Council that he believed the attack constituted a war crime. The UN report, he said, detailed the "most significant confirmed use of chemical weapons against civilians since Saddam Hussein used them" in Halabja in 1988.
What happened
The first reported use of chemical weapons came at 02:45 local time on 21 August in Ein Tarma, in about 6km (3.7 miles) east of the centre of Damascus, and again at 02:47 in Zamalka, an adjoining district.
Using witness statements, GPS information and satellite imagery, Human Rights Watch confirmed four sites in Zamalka where at least eight rockets struck - al-Mahariq Street, Naher al-Tahoun Street in the Bostan area, near the Hamza mosque, and near the Tawfiq mosque in the al-Mazraat area.
In Muadhamiya, a town about 20km (12 miles) to the west of Zamalka, was struck by rockets at about 05:00 local time. One opposition activist said he counted seven projectiles falling in two areas - four next to the Rawda Mosque, and the other three about 500m (1,640ft) away in the area between Qahwa and Zeitouna Streets.
Within hours, dozens of videos were uploaded of large numbers of distressed and visibly sick adults and children with no external signs of injury. In some of the most graphic footage, dozens of bodies, including many small children and babies, were seen laid out in rows on the floors of clinics and mosques, and on streets in Muadhamiya, Ein Tarma, Zamalka and nearby areas.
The victims' symptoms - seen in the videos and described by medics - were consistent with exposure to a nerve agent, including shortness of breath, disorientation, runny nose, eye irritation, blurred vision, nausea, vomiting, general weakness, and eventual loss of consciousness.
The international medical charity, Medicins Sans Frontieres, said that over three hours on the morning of 21 August medical staff at three hospitals it supported in Damascus province treated large numbers of patients with "neurotoxic symptoms".
Death toll
It has been difficult to establish a precise death toll from the attack, owing to the chaos resulting from the large number of casualties and the lack of any large hospitals in the affected areas.
While activists initially said about 300 people had been killed, by the end of 21 August the main opposition alliance had put the death toll at more than 1,300.
Medicins Sans Frontieres (MSF) said at least 3,600 patients displaying "neurotoxic symptoms" had been treated at the hospitals it supported. Of those patients, 355 had died, it added.
The Syrian Observatory for Human Rights (SOHR), a UK-based group that gets its information from a network of activists across Syria, later said it had confirmed at least 502 deaths.
The Violations Documentation Centre (VDC), an activist-run site cited by the United Nations that uses internationally accepted norms to verify deaths, lists at least 588 fatalities, including 135 women and 108 children. It names almost all of them.
A French intelligence assessment said that based on the technical analysis of 47 video tapes, no fewer than 281 people had died.
A preliminary US government assessment determined that 1,429 people had been killed, including 426 children.
Weapons used
The UN report said several surface-to-surface rockets capable of delivering significant chemical payloads were identified and recorded at investigated sites.
In Muadhamiya, the UN team were filmed inspecting an expended rocket motor found near the Rawda Mosque. In their report, they said the ordnance they found in the area was about 140mm wide and had an engine with 10 jet nozzles. They did not identify it, but arms experts said it was a Soviet-era 140mm surface-to-surface artillery rocket, known as the M-14.
In Zamalka, videos and photographs were published online that showed the remnants of what appeared to be unguided rockets. The UN inspectors did not identify the projectiles, but based on the measurements they and opposition activists provided, arms experts said they were adapted 330mm surface-to-surface artillery rockets.
The UN report estimated that the warheads on the 330mm rockets would have been able to carry between 50 and 62 litres (11-16 gallons) of chemical agent.
Chemical agent used
The UN report said samples found by Organisation for the Prohibition of Chemical Weapons-designated labs to contain the nerve agent, sarin, were recovered from a majority of the rockets or rocket fragments inspected.
Thirty environmental samples taken from impact sites and surrounding areas were also tested and the presence of sarin, its degradation and/or production by-products were observed in a majority, the report added.
Furthermore, UN medical experts examined 36 survivors who they diagnosed as still showing symptoms consistent with an organophosphate intoxication. Blood and urine samples from 34 of them provided "definitive evidence" of exposure to sarin, the inspectors said.
"The environmental, chemical and medical samples we have collected provide clear and convincing evidence that surface-to-surface rockets containing the nerve agent sarin were used in Ein Tarma, Muadhamiya and Zamalka," the inspectors conclude.
Allegations
The UN mission was not asked to ascertain who was behind the attack.
However, by examining the debris field and impact area where the rockets struck in Muadhamiya and Ein Tarma, the inspectors found "sufficient evidence" to calculate azimuths, or angular measurements, that allow their trajectories to be determined "with a sufficient degree of accuracy".
When plotted on a map, the trajectories converge on a site that Human Rights Watch said was a large military base on Mount Qassioun that is home to the Republican Guard 104th Brigade.
Human Rights Watch said the Syrian military was believed to have M-14 rockets, and one of the three warheads produced for them can carry 2.2kg (4.8lb) of sarin. Rebel forces were not believed to possess M-14s nor the associated BM-14 launching system, it added.
The organisation said the 330mm rockets were "of a type not listed in standard, specialised, international or declassified reference materials". However, the rocket type had been documented in a number of other attacks on opposition-held areas in recent months, it noted.
Human Rights Watch said the 330mm rockets would be compatible with the 333mm Falaq-2 launcher produced by Iran, which the Syrian government is known to possess. Videos have emerged appearing to show Syrian troops using Falaq-2 systems to launch similarly adapted rockets. Human Rights Watch said no evidence had been produced showing rebel forces were in possession of the rockets or their associated launchers.
Opposition forces are also not believed to have been in possession of the amount of Sarin used in the attack - hundreds of kilograms, according to Human Rights Watch's calculations - nor to have expertise in the specialised procedures required to load chemical warheads.
Meanwhile, the Syrian military is widely believed to have more than 1,000 tonnes of chemical agents and precursor chemicals, including several hundreds of tonnes of sarin, as well as the required expertise.
The White House said US agencies had assessed "with high confidence" that the Syrian government was responsible. Human, signals and geospatial intelligence revealed that Syrian chemical weapons personnel prepared chemical munitions in the Damascus suburb of Adra in the three days prior to the attack, it added.
Intelligence, including satellite detections, also indicated that government forces had fired rockets and artillery shells from a government-controlled territory towards the suburbs where the chemical attacks occurred, the White House said.
"We intercepted communications involving a senior official intimately familiar with the offensive who confirmed that chemical weapons were used by the regime on 21 August and was concerned with the UN inspectors obtaining evidence," it added.
"On the afternoon of 21 August, we have intelligence that Syrian chemical weapons personnel were directed to cease operations. At the same time, the regime intensified the artillery barrage targeting many of the neighbourhoods where chemical attacks occurred."
The French intelligence assessment concluded that the attack "could not have been ordered and carried out by anyone but the Syrian government". It said "the launch zone for the rockets was held by the regime while the strike zone was held by the rebels", and that at the time commanders feared a wider attack on Damascus from the opposition.
It also said the section of the Syrian military responsible for filling munitions with chemical agents and for security at storage sites - "Branch 450" of the Syrian Scientific Studies and Research Centre (CERS) - was staffed only by members of the president's Alawite sect and was "distinguished by a high level of loyalty to the regime". Bashar al-Assad and certain members of his inner circle were the only ones permitted to give the order for the use of chemical weapons, it added.
The Syrian government and military denied being behind the 21 August attack, describing the allegations made by Western powers as "false and completely baseless" and challenging them to present incontrovertible proof.
President Assad accused rebel groups supported by the US, Turkey and Saudi Arabia of using chemical weapons to turn around the conflict in Syria because they were losing. He also said it would have been illogical for the military to use weapons of mass destruction in an area where its soldiers were present.
Russia also challenged the US to present its evidence, with President Vladimir Putin describing claims that the Syrian government was responsible as "utter nonsense". Russian officials suggested that rebels had sought to provoke international military intervention.
On 18 September, Russian media quoted the country's Deputy Foreign Minister, Sergei Ryabkov, as saying during a visit to Damascus that Syria's government had provided additional information that showed rebels had used chemical weapons not only on 21 August but on other occasions. He also criticised the UN inspectors' report, saying it was "distorted" and "one-sided", and based upon "insufficient" information.
Russian Foreign Minister Sergei Lavrov drew attention to sources on the internet and other media, including a sceptical analysis of the videos of victims that was written by a Lebanese Carmelite nun, Mother Agnes Mariam de la Croix.
Mother Agnes, whose monetary is north of Damascus, said that she was convinced the entire attack was fabricated by the opposition - particularly the rows of apparently dead children whom she said had been drugged - with the goal of framing the Syrian government.
Russian and Syrian media also noted that videos published online on 16 September purportedly showed Islamist rebels from Liwa al-Islam launching the rockets that hit the Ghouta on 21 August. Liwa al-Islam subsequently insisted that the videos were "completely fabricated".