Syria crisis: BBC's Jeremy Bowen reports from Syria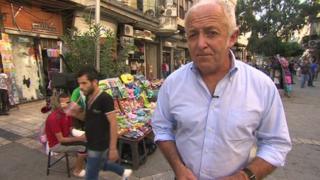 In the early hours of 21 August, graphic footage emerged showing victims of an alleged chemical weapons attack on civilians in and around Damascus.
Since then, the international focus on the crisis has intensified.
The BBC's Middle East Editor Jeremy Bowen is one of the few international broadcasters in the Syrian capital. Here is a selection of his reports.
Syrians 'no longer trust neighbours'
The BBC's Jeremy Bowen meets Syrians who say they can never trust their neighbours again, as the "religious mosaic of different sects breaks up".
Syria's 'lost generation' of students
Jeremy Bowen visits a school in Damascus on the first day of the school year as the UN says almost two million children will not receive any education this year.
Inside Syrian town where battle rages
Government troops are fighting to regain control of the ancient town of Maaloula - with the help of volunteers from Christian areas in Damascus.
Cautious relief as threat of strikes recedes
Regulars at a Damascus cafe are relieved by the news that international diplomacy could reduce the threat of airstrikes - but for the rebels the news is a bitter blow.
Christians flee to Damascus cathedral
Rebel forces have taken control of the historic Christian town of Maaloula, north of Damascus, with Christians fleeing to the Greek Catholic Cathedral in Damascus for help.
'Rebels stole everything from us'
There are reports that rebel forces have taken control of the historic Christian town of Maaloula, north of Damascus. Our correspondent heard one woman's story.
'Illusion of normality'
A look at how life continues on the streets of Damascus, while the threat of a potential military strike from the US forces hangs over Syria.
Red Cross plea for access
The head of the ICRC's delegation in Syria, Magne Barth, makes a plea for access to many areas where "there is great suffering".
'Human shields of Assad'
As expectation grows of a US-led strike against President Assad's forces, so has tension in the capital.
Our correspondent reports from a district staunchly behind the president, where both soldiers and civilians say they are prepared to die for him.
'Words don't matter'
The UN says the number of Syrian refugees - and displaced people inside Syria itself - make the refugee crisis the worst since the 1994 genocide in Rwanda.
The organisation's humanitarian chief, Valerie Amos, told our correspondent $3.3bn must be found to deal with the crisis.
Where bad dreams are real
There are two million displaced people in Damascus, and 42 of them are sheltering in one over-crowded flat.
'Region on fire'
When Deputy Foreign Minister Faisal Mekdad spoke to the BBC, he denied claims the government had used chemical weapons against its own people.
Mortar bombs during mass
Five per cent of Syrians are Christians, though many have already fled. Services are still being held in one church dangerously near the front line.
Meet Syria's better-off
Jeremy Bowen visited an affluent part of Damascus where people were continuing with their daily lives, despite living in the shadow of fighting.
Driving into Damascus
Syria's neighbours are braced for a new crisis. Jeremy Bowen saw the impact on Syria's borders first-hand, before driving into Damascus itself.