Iraqi Shia family targeted in deadly attack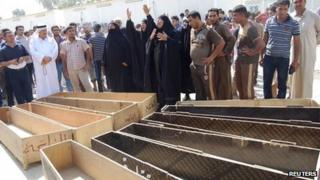 An attack on a Shia Muslim family living near Baghdad has left at least 16 people dead, Iraqi officials say.
Six children and five women were among those killed when the neighbouring homes of two brothers in the town of Latifiya, 40km (25 miles) south of the capital, were targeted overnight.
A survivor said the gunmen shot anyone they saw before blowing up the houses.
Sectarian violence has surged across Iraq in recent months, reaching its highest level since 2008.
More than 800 people were killed in August alone, with Baghdad province worst affected.
Latifiya is in a religiously-mixed region that came to be known as the "Triangle of Death" at the peak of Iraq's insurgency in 2006 and 2007.
No group said it was behind the latest attack, but Sunni militants linked to al-Qaeda frequently target the country's Shia majority.
"Gunmen broke into our house overnight and shot my father four times in the head, they killed my two brothers, they killed my cousin, they were shooting everyone they saw, I escaped from the back door," one of the survivors, Haneen Mudhhir, told Reuters news agency from hospital.
Surge in violence
Separately, police said five soldiers were killed when a roadside bomb exploded beside their convoy as they passed through the town of Tarmiya, 50km (31 miles) north of Baghdad.
Five police officers were also killed when a suicide bomber attacked a local police headquarters in the northern city of Mosul, they added.
Violent incidents such as these have become a common occurrence in Iraq, with attacks every few days.
On Tuesday, at least 60 people were killed in a series of near-simultaneous car bomb attacks and shootings in several predominantly Shia districts of Baghdad.
More than 5,000 people have been killed and 12,000 injured since January, according to the United Nations.
The spike in deadly violence in recent months comes amid rising sectarian and ethnic tensions, triggered in April by an army raid on a Sunni Arab anti-government protest camp near Hawija.
The protesters were calling for the resignation of Shia Prime Minister Nouri Maliki and denouncing the authorities for allegedly targeting the minority Sunni community.
The country has also seen a spillover of violence from the conflict in Syria, where jihadist rebels linked to the Islamic State of Iraq, a Sunni militant umbrella group that includes al-Qaeda, have risen to prominence.
Syria has also exacerbated sectarian tensions, with Iraq's Shia majority largely siding with the Alawite-dominated government, and Iraq's Sunnis backing the rebels, who are drawn mostly from Syria's Sunni majority.
In recent weeks, Iraqi security forces have reportedly arrested hundreds of alleged al-Qaeda members in and around Baghdad as part of a campaign the Shia-led government is calling "Revenge for the martyrs".
But the operations, which have taken place mostly in Sunni districts, have angered the Sunni community and failed to halt the violence.lat