Libya ex-spy chief's daughter Anoud al-Senussi released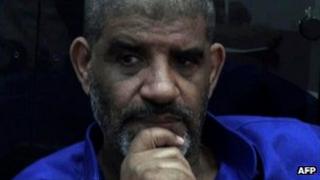 The abductors of the daughter of Libya's former intelligence chief Abdullah al-Senussi have released her after her kidnap late on Monday.
Anoud al-Senussi was received by family members in the southern Libya.
Ms Senussi was seized just moments after she left prison where she had served a 10-month sentence for entering Libya illegally.
The gunmen who took her said they had done so for her own protection to prevent others from kidnapping her.
A security brigade, loosely affiliated to the Interior Ministry, said it had been responsible for the abduction. Observers dismissed this explanation, saying the gunmen had come under pressure from other brigades to release her.
The brigade, known as the First Special Reinforcement Unit, comes under the Supreme Security Committee set up by the ministry of the interior, and is partially made up of fighter who took up arms to oust Gaddafi.
A member of Ms Senussi's tribe, Abdelgader Ibn-Ghassem, told the BBC that Anoud was well and currently staying with relatives in the town of al-Gira in the south of the country.
Mr Ibn-Ghassem added that she would eventually travel to Egypt to re-join her mother and sister there, reports the BBC's Rana Jawad in Tripoli.
Ms Senussi had been convicted for entering the country with a fake passport last year.
Her father is currently jailed in Libya, awaiting trial for his alleged role in crimes committed during the rule of Muammar Gaddafi.
He is also wanted by the International Criminal Court (ICC), which has accused him of responsibility for crimes against humanity during the uprising that ousted Gaddafi in 2011.