Egypt army storms Islamist-held town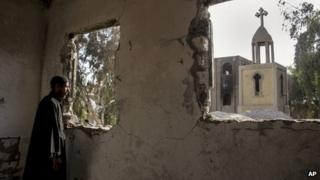 Egyptian troops have stormed the central town of Dalga, which has been held by Islamists loyal to the ousted president, Mohammed Morsi.
Army and police backed by helicopters entered the town early on Monday.
Coptic Christians living in the town of 120,000 people had appealed for help, saying they could not pray safely and were being taxed by "thugs".
Egyptian authorities are cracking down on Islamists following Mr Morsi's removal from power on 3 July.
Hundreds of people were killed when government forces broke up protest camps in the capital, Cairo, in support of Mr Morsi.
Father Ayoub Youssef, the patron of Mar Guirguis Church for Catholics in Dalga, told the BBC that Christian families were "relieved" but still concerned, following Monday's developments.
Eyewitnesses said the Islamists put up no resistance as the troops entered the town, which is around 300km (190 miles) south of Cairo.
Sinai bomb
Elsewhere in Egypt on Monday, suspected Islamist militants used a roadside bomb to target a bus carrying government forces near the town of el-Arish in Sinai.
Eight of those on board the bus were injured in the attack.
The bus passengers were police conscripts travelling from the border town of Rafah, according to the Associated Press.