French citizen dies in Egypt while in police custody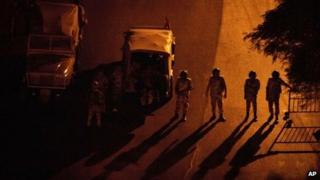 A French citizen has died while in police custody in the Egyptian capital, Cairo, France's foreign ministry says.
The French embassy said the man was a long-term resident of Egypt and that it was seeking clarification of the circumstances of his death.
Egyptian security sources said he was beaten to death by fellow detainees at the central Qasr al-Nil police station.
He had been arrested for violating an overnight curfew, had been drunk and was due to be deported, they added.
The curfew has been in place across much of Egypt for more than a month since hundreds of people were killed when security forces cleared two protest camps in Cairo, where people were demanding the reinstatement of ousted President Mohammed Morsi.
He was deposed by the military in July amid mass opposition protests.
The Egyptian security sources said the Frenchman had been arrested on a street in the upmarket Cairo district of Zamalek for violating the curfew. He was presented to state prosecutors, who decided to deport him because he had no valid residency permit, and then put in a holding cell.
The security sources said it was not clear why the man was attacked by his fellow detainees, six of whom were now being held as part of an investigation into his death.
One official told the AFP news agency that a post-mortem had found that the man had suffered a "skull fracture" and "internal haemorrhaging".
There were conflicting reports on when he died. France's foreign ministry said it happened on Friday, but Egyptian officials said it occurred on Sunday.