Rouhani speech: Iranian media welcome change in tone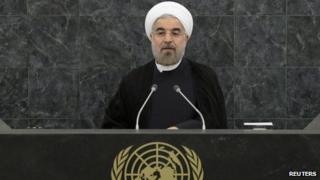 Conservative as well as reformist Iranian papers have lined up in praise of what say they is the softer tone adopted by President Hassan Rouhani in his first address to the UN General Assembly on Tuesday.
Reformist and moderate commentators were almost euphoric in tone about the international reaction to it.
"Rouhani wave washes through global media headlines," a headline in moderate Arman said, while reformist E'temad had the headline "Welcome, reactions, hope".
"Rouhani's speech has made the world happy, except for a few exceptions," another moderate paper, Mardom Salari, said in its editorial. "Now, the discourse of 'war is an option on the table' has been replaced by phrases such as interaction, dialogue and peace in the global political lexicon.
"Just because of this, the world is awaiting the end of the 35-year old rift between Iran and the US."
Conservative papers were somewhat more restrained, but still supportive. "The majority of Mr Rouhani's statements in the capacity of president have acceptable preciseness and legitimacy," Khorasan said in an editorial.
It added that by expressing Tehran's readiness for talks, Mr Rouhani had left Barack Obama "with no other choice than to take practical steps".
"Challenging the warmongering idea and pro-war activities by calling for people to think about 'a coalition for peace' instead of a 'coalition for war' were undoubtedly one of the key points he put so intelligently."
Several papers were also pleased by the fact that with the exception of Israel's delegation, there was no mass walkout, as there was with last year's UN speech by Mr Rouhani's predecessor, Mahmoud Ahmadinejad.
"Nobody left the hall this time, and world leaders listened to the Iranian president's speech to the end," the reformist newspaper Bahar wrote.
This observation also cropped up in social media. Users like i1Mayhar tweeted: "The fact that Rouhani did not say anything that would create problems afterwards, like Ahmadinejad did, and the fact that the audience did not leave the room is excellent."
'Diplomatic'
Analysing the president's speech on Wednesday, many papers said they were struck by what they saw as a new, gentler tone in Iran's engagement with the world. Reformist daily Bahar felt Mr Rouhani's message was "finally about peace after eight years of tension between Iran and regional and European countries".
But there were also suggestions that Mr Rouhani had merely restated Iran's old positions, albeit in a more diplomatic fashion. "Rouhani went to New York to let the world hear the familiar voice of Iranians, who always talk about peace," Bahar added in its editorial.
Arman said the president had used "appropriate and valuable vocabulary", showing he is "aware of the diplomatic arena and the ups and downs of its paths".
The conservative Fars News Agency quoted the head of the hard-line faction in parliament, Gholam Ali Haddad Adel, as saying that the president wanted "to convey his message to the Americans in a diplomatic tone", even thought he was reiterating the "Iranian nation's often-stated stances".
State TV said the president was "defending the country's stand on regional, international and nuclear issues".
Not all reformist Iranians, meanwhile, were convinced that the president's remarks represent a genuine change, either in rhetoric or course.
A prominent reformist commentator, Fatemeh Shams, described Mr Rouhani's speech on Facebook as "disastrous", "full of rage, full of ideological nonsense and disappointing indeed".
The popular satirical Facebook page "What kind of country are we living in?" was cynical and wondered whether the first part of the speech had actually been written by the hard-line supreme leader, Ali Khamenei.
Prominent UK-based journalist Masih Alinejad, posed this question on Facebook: "Rouhani and Obama both talked about peace. But whose words did you find more peaceful?"
BBC Monitoring reports and analyses news from TV, radio, web and print media around the world. For more reports from BBC Monitoring, click here. You can follow BBC Monitoring on Twitter and Facebook.