Iran media focus on Obama-Rouhani call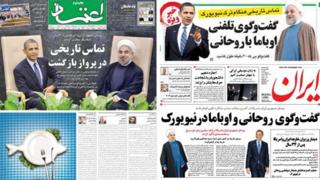 Iranian TV and radio have given prominent coverage to the telephone conversation between US President Barack Obama and his Iranian counterpart Hassan Rouhani.
Some newspapers printed a second edition to cover it with bold headlines announcing the "special" and "historic" news.
"Historic contact"
The Obama-Rouhani conversation topped the early morning bulletins on Iranian TV channels.
The reports said both leaders had stressed the need for a "swift resolution of the nuclear issue".
Iran's state-run IRTV1 said the "last-minute" contact was "so significant for Obama that he immediately appeared in front of the cameras". The channel then showed some of Mr Obama's remarks with a Persian voiceover.
Over footage of Mr Rouhani boarding a plane and flying off, the TV report said "Iran's aircraft of diplomacy has taken off".
State-run Iran Radio (VIRI), however, was cautious about the latest developments in Tehran's relations with the West.
"We need to wait and see what will actually happen. Will the Americans really recognise the rights of the Iranian nation? Will they lift the sanctions they imposed on Iran and the world? Will the Zionist lobby allow the White House to hold talks with Iran as an equal without exerting pressure?" the radio station asked.
Rolling TV news channel IRINN and English-language Press TV also led their bulletins with the phone call.
Press TV, which ran the caption "historic contact", asked Vancouver-based international lawyer Alfred Lambremont Webre to comment on the Obama-Rouhani conversation. Mr Webre said Mr Rouhani was "actually helping President Obama… in showing the US Congress and the right-wing forces in the US that they can achieve their objectives without war".
Special editions
As the news broke late in the evening, only a few Iranian newspapers initially reported that Mr Obama and Mr Rouhani had spoken to each other on the phone.
Some reformist papers, however, rushed to print second editions with front-page headlines dedicated to the conversation.
"Historic phone call before return flight," the daily E'temad said over a photo montage showing the two leaders seated next to each other.
"Obama's last-minute phone call to Rouhani", was Sharq's headline.
The moderate Arman daily treated the story as "special news" and ran the headline: "Historic phone call upon leaving New York: Obama's telephone conversation with Rouhani".
BBC Monitoring reports and analyses news from TV, radio, web and print media around the world. For more reports from BBC Monitoring, click here. You can follow BBC Monitoring on Twitter and Facebook.