Iraqi Kurdistan opposition party beats PUK in elections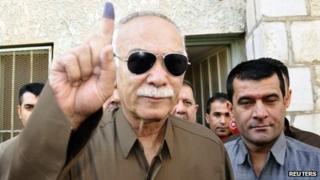 An opposition group has come second in the parliamentary elections in Iraq's semi-autonomous Kurdistan Region, beating one of the two ruling parties.
The Change Movement, led by Nawshirwan Mustafa, won 24 seats, pushing Iraqi President Jalal Talabani's Patriotic Union of Kurdistan (PUK) into third.
The Kurdistan Democratic Party (KDP) of regional President Massoud Barzani remains the largest bloc with 38 seats.
It is not clear if this will affect the KDP and PUK's power-sharing agreement.
The two parties have ruled through a coalition government since 2005 as part of a wider deal which has also seen them divide up top posts in Irbil and Baghdad.
The elections for the 111-seat Kurdistan Parliament, which took place in Irbil, Sulaimaniya and Dahuk provinces on 21 September, were the first for more than 20 years which the KDP and PUK contested individually.
Mr Mustafa's Change Movement, also known as Gorran, campaigned against alleged government corruption and perceived heavy-handedness by private security forces linked to the KDP and PUK.
The PUK's election campaign faced a particular challenge, with President Talabani having been out of the political spotlight since December following a reported stroke. In the end, his party won only 18 seats, six fewer than Gorran.
The region's main Islamist parties also increased their share of the seats in parliament. The Kurdistan Islamic Union won 10, the Kurdistan Islamic Group secured six, and the Islamic Movement one.