Netanyahu's UN speech fails to win over media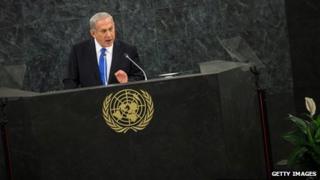 Israeli Prime Minister Netanyahu's exhortations at the UN General Assembly not to trust the new Iranian president received a wary response among commentators both in Iran and at home. Iranian media criticized the speech as "Iranophobic" while some Israeli newspapers found it unconvincing.
"Did the message get through? Was the world persuaded? Was Obama persuaded? Much doubt here," a commentary in Israel's mass-circulation Yedioth Aharonot said.
It added that unlike Mr Netanyahu, the US president appeared to believe that Hassan Rouhani had changed and intended to give him a chance. "Like the rest of the world, Obama has had enough of wars and is opting for the diplomatic option," it concluded.
The left-of-centre independent broadsheet Haaretz took issue with the prime minister's uncompromising tone. "Whether credible or not, the Israeli threat has made a big comeback in New York," it noted.
The centre-right daily Maariv agreed, saying the Iranians had "succeeded in changing the international discourse" and that Mr Netanyahu was "no longer the one who determines the tone".
The pro-Netanyahu Yisrael Hayom, however, praised the speech for telling home truths, saying it was a "serious, tough and sober speech, even extraordinary in days in which the world wants a fantasy".
Another commentary in the same paper noticed that strong words were perhaps masking a "subtle" softening of Netanyahu's position. "This time he did not threaten to use [the military option] against uranium enrichment... [but] only if Iran makes nuclear weapons," it explained.
Iranian Media
Reaction in the Iranian media was predictably negative, but also appeared to dismiss Mr Netanyahu's speech as ineffective. Persian-language rolling news channel IRINN said it was merely a "repetition of hollow claims", while English-language Press TV said the Israeli leader was "inventing lies about Iran".
The channel focused its attention on Iran's election as rapporteur of the UN Committee on Disarmament and International Security, which it said could be considered "the first practical response to Netanyahu's Iranophobic remarks".
State radio said that the words of Mr Netanyahu, whom it called the "warmongering prime minister", would not rally other nations around Israel's position. "Most international media outlets acknowledged the isolation of the Zionist regime," it added.
A conservative newspaper, Javan, suggested that he was trying to distract attention from Israel's own weapons. "Netanyahu is concerned that once Iran's nuclear case is no longer on the world's agenda, it will be replaced by the case of [its own] weapons of mass destruction, including chemical and nuclear weapons," it claimed.
It also said the world was likely to turn the spotlight on the Palestinian situation and pressure Israel to accept a two-state solution, "with Iran's nuclear case being resolved and the Iranophobia project drawing to a close".
BBC Monitoring reports and analyses news from TV, radio, web and print media around the world. For more reports from BBC Monitoring, click here. You can follow BBC Monitoring on Twitter and Facebook.