Saudi activist Waleed Abu al-Khair released on bail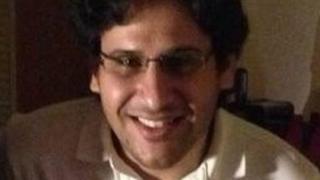 Prominent Saudi human rights activist Waleed Abu al-Khair has been released on bail after being detained for holding an "unauthorised" meeting.
Mr Abu al-Khair had been hosting a forum to exchange ideas with other reformists, known as a "diwaniah", at his home in the western city of Jeddah.
He has been accused of contacting foreign human rights organisations.
Mr Abu al-Khair is the founder and head of the pioneering Monitor of Human Rights in Saudi Arabia (MHRSA).
The group's Facebook page has nearly 7,000 members.
In June 2012, Mr Abu al-Khair was accused of "disrespecting the judiciary system", "contacting foreign organisations and signing a petition demanding the release of detainees", his wife told the AFP news agency.
Three months earlier, he was reportedly banned from travelling to the US.
The UK-based Institute for Human Rights in Saudi Arabia said Mr al-Khair had started to host meetings to discuss politics, religion and human rights at his home after the authorities prevented reformists gathering at a cafe.
The gatherings had come under attack from conservatives on social media and TV networks who called for it to be shut down, it added.