Iran parliament denies 'uranium surplus' report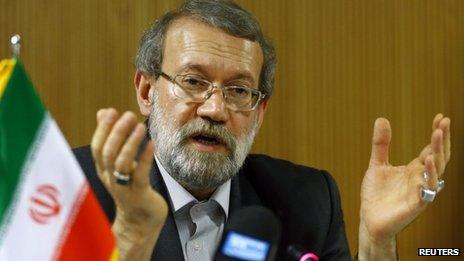 Iran's parliament has denied reports that the country has a surplus of enriched uranium and plans to use this as a bargaining tool at nuclear talks.
The Associated Press attributed the claims to Parliament Speaker Ali Larijani, in an interview ahead of high-level talks in Geneva.
But MPs said the claims were "false and fundamentally inaccurate".
The West suspects Iran of trying to develop nuclear weapons. Iran says its programme is entirely peaceful.
Mr Larijani was interviewed by several Western news agencies ahead of the meeting with the five permanent UN Security Council members - the US, Russia, China, Britain, France - and Germany.
Iran has been negotiating with the P5+1 over the nuclear issue since 2006.
Mr Larijani said Iran enriched uranium because the UN's International Atomic Energy Agency would not provide it, according to the AP report.
"We have some surplus, you know, the amount that we don't need. But over that we can have some discussions,'' he was quoted as saying.
However, a statement carried by Iranian news agency ICANA said: "Parts of Dr Larijani's interview with Associated Press, where it had been emphasised that Iran had more enriched uranium than it needed and intended to use that as a winning card in next week's negotiations in Geneva, are false and fundamentally inaccurate."
In an interview with AFP news agency, Mr Larijani described the talks as "a window of opportunity".
The P5+1 have asked Iran to halt production and stockpiling of uranium enriched to 20% - a step away from achieving a nuclear weapons capability.
They also demanded Iran shut down the Fordo underground enrichment facility.
In return, they have offered to ease the sanctions that have severely affected Iran's economy.
New Iranian President Hassan Rouhani has said he wants to reach a deal on the nuclear dispute in three to six months.
But the US has said there will be no major concessions on sanctions until the Iranians take concrete steps to reassure the world they are not seeking nuclear weapons.