'Four killed' in Lebanon flare-up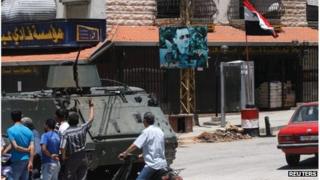 At least four people have been killed in Tripoli, Lebanon, in fighting between supporters and opponents of Syrian President Bashar al-Assad.
Gunmen have been trading fire between the Sunni district of Bab al-Tabbana and the Alawite district of Jabal Muhsin since Monday.
Dozens of people have been injured in the violence, officials say.
The adjacent neighbourhoods have witnessed sporadic clashes since the Syrian conflict began in early 2011.
President Assad is a member of the Alawite sect and is fighting a Sunni-led revolt.
Tripoli, with a small Alawite community living in the midst of a Sunni majority, is seen as one of Lebanon's most volatile sectarian faultlines.
A security official said the Lebanese army was "responding to all sources of fire", AFP news agency reported.
"Snipers are hiding on the rooftops and in the streets," it quoted the unnamed official as saying.
On-off fighting between the two districts have claimed scores of lives over the past two years.