Syria: Kidnapped Polish journalist escapes from captors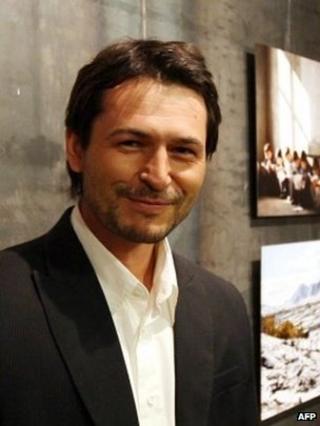 A Polish photojournalist kidnapped in Syria three months ago is home after escaping from his captors, Poland's foreign ministry has announced.
Marcin Suder was abducted by masked gunmen in north-western Syria in July.
Poland's Foreign Minister, Radoslaw Sikorski, announced Mr Suder's return on Twitter, saying the journalist was "already back home."
Reporters Without Borders calls Syria the most dangerous country for journalists.
At least 25 have been killed, along with as many as 80 citizen journalists and bloggers, and many others have gone missing since the conflict began in March 2011.
Mr Suder, a 34-year-old freelancer, was working for the Corbis agency and other outlets when he was kidnapped on 24 July from a media centre in Saraqeb, in the north-western province of Idlib.
Managed to escape
A Polish foreign ministry spokesman told AFP news agency that Mr Suder managed to escape his captors and is now with his family.
No-one ever publicly claimed responsibility for the abduction, though Poland was said to have set up a team of specialists to deal with the case. Earlier in October, Mr Sikorski said the journalist was alive, though he offered no further details.
The conflict in Syria has killed more than 100,000 people, displaced five million inside the country and created another two million refugees abroad, many of whom are living in cramped, unhygienic conditions at risk of disease.
This week Saudi Arabia initiated a draft UN resolution to condemn "widespread and systematic gross violations of human rights" by the Syrian government, as well as abuses by armed rebel groups, including the killing and persecution of protesters, human rights activists and journalists, and attacks on schools and hospitals.
Saudi Arabia, which backs the rebels fighting President Bashar al-Assad's forces, is expected to submit its resolution to the human rights committee of the General Assembly on Friday. Though not a legally binding, such resolutions, if carried, are seen to reflect the world's political opinion.