Russia and Egypt in 'historic' talks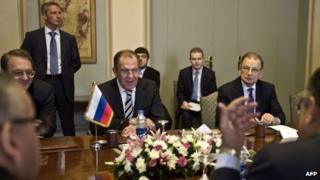 Top officials in Egypt have hailed talks with Russian ministers in Cairo as "historic".
The head of the Egyptian army, General Abdel Fattah al-Sisi, said the talks signalled the start of a new era of enhanced military co-operation.
There are on-going discussions about a possible arms deal that could be worth as much as $2bn (£1.2bn), though no agreement has been reached.
It is the highest level visit to Egypt by a Russian delegation in years.
It follows the US decision to cut defence aid to Egypt in response to the ousting of President Mohammed Morsi.
But Egypt's Foreign Minister, Nabil Fahmy, insisted that he was not looking for a "substitute for anyone".
Mr Fahmy said Russia had too much leverage to be an alternative to someone else.
The Russian Foreign Minister, Sergei Lavrov, said Russia was against any foreign intervention in internal affairs.
"We respect Egypt's sovereignty and the rights of Egyptian people to determine their future," he said.
Relations between Cairo and Moscow cooled decades ago, but they are now warming up, says the BBC's Orla Guerin in Cairo.
The flagship of Russia's Pacific Naval Fleet, the cruiser Varyag, is on a six-day visit to Alexandria. It is the first Russian warship to visit Egypt since 1992.
As well as Mr Lavrov, Russia's Defence Minister Sergei Shoigu was in Cairo for the talks.
Earlier this week, Nabil Fahmy told Russia's state-owned RT television that deliveries of Russian arms were being considered, Russian news agency Ria Novosti reported.
"The issue of purchasing new Russian weapons should be carefully examined," he said.
Russian officials described the talks as touching on military and technical co-operation - which usually means arms sales, our correspondent says.
In October, the US said it was suspending a large part of the $1.3bn (£810m) in aid it gives to the Egyptian military.
It followed a crackdown by the authorities on supporters of ousted President Morsi that left hundreds of people dead.
However, the US - Egypt's main backer since the 1970s - has stopped short of labelling President Morsi's removal from power a coup, as doing so would trigger the legal requirement to cut off aid.