Iran deal still on table as Geneva talks resume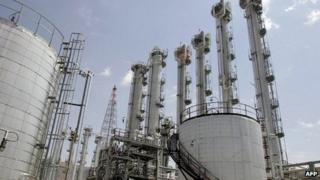 Since September, Iran and the West have crossed so many Rubicons that they might decide to invest in a rowboat and some oars to help them keep going.
On the eve of the latest round of nuclear talks, UK Prime Minister David Cameron phoned Iran's President Hassan Rouhani. It was the first such conversation between British and Iranian leaders for more than 10 years.
It follows a similar phone conversation in September between President Rouhani and US President Barack Obama - the most high-level Iran-US contact since the 1979 Islamic Revolution.
It is clear that the election of Hassan Rouhani has changed the diplomatic atmosphere dramatically.
As a result, the speed of talks about the Islamic Republic's nuclear programme has increased. The world powers and Iran are about to start their third round of discussions in five weeks.
Negotiators here in Geneva may hope to approach or even reach an interim agreement during their next three days of talks. Diplomats decline to reveal the details of their demands and proposals.
But a potential first-step deal may include some of the following elements: Iran would agree to limit its enrichment of uranium; to convert some of its stockpile of medium enriched uranium; to limit the types of centrifuges it uses for enrichment, and to give greater access to international inspectors.
These steps would make it harder for Iran to proceed towards building a nuclear weapon - a process known as "breakout". Iran strongly denies any ambition to develop an actual bomb.
Sticking points
In exchange for taking some or all of the above steps, the world powers say they are prepared to ease some sanctions on Iran. This may take the form of allowing the Islamic Republic access to around $10bn (£6bn) in frozen assets.
The most recent round of talks held earlier this month made progress. The discussions included the most sustained high-level US and Iran dialogue in more than three decades.
But negotiators appeared to get stuck on two particular issues. Firstly, France called for greater restrictions on a heavy water reactor at Arak which, when finished, would be able to produce plutonium.
Secondly, Iran reportedly insisted on a recognition of what it believes is its right to enrich uranium. Article 4 of the Nuclear Non-Proliferation Treaty guarantees countries the right to develop the use of nuclear energy for peaceful purposes. But the text of the treaty does not expressly refer to a right to enrich uranium.
Ten days have gone by since the end of that round of discussions. It's not yet clear whether France has now been persuaded to fall in line with its fellow world powers' less restrictive demands on Arak.
But, to many people's surprise, there may be a potential solution to the second sticking point - Iran's insistence on its right to enrich uranium.
On 17 November, Iran's semi-official ISNA news agency quoted Foreign Minister Mohammad Javad Zarif saying that although Iran's right to enrich was "non-negotiable… [we] see no necessity for its recognition as a right".
This shift in Iran's position may remove an obstacle to the drafting of an interim agreement.
It seems clear that the Iranian government has come to Geneva determined to take something back to its people. To do so, it needs to sell its willingness to do a deal to the one country that matters - the United States.
Iran may have been studying how best to appeal to an American audience. Mr Zarif, who is also the country's chief nuclear negotiator, has posted a five-minute video address on YouTube in English called There is a Way Forward.
From his many years in the United States, Mr Zarif will have noticed that US campaign broadcasts end with a simple statement from the candidate: "I'm John Smith, and I approved this message."
In a nod to this tradition, Mr Zarif ended his message: "The Iranian people are determined to explore this path. Join us in ending an unnecessary crisis and opening new horizons. My name is Javad Zarif and this is Iran's message."
But not everyone will be won over.
Members of the US Congress, in particular, are sceptical of a deal with Iran. And Israel's Prime Minister Benjamin Netanyahu openly opposes any agreement which would allow Iran to keep its nuclear programme. He has accused the world powers of offering the Islamic Republic the deal of the century.